The Hunger Games: Catching Fire Cashes In At The Box Office On Thursday Night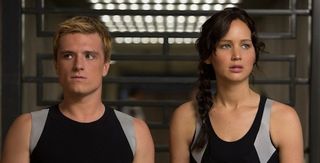 The Hunger Games: Catching Fire is already burning it up at the box office this weekend, raking in a reported $25.2 million in late night (and early Friday) screenings domestically, comfortably surpassing the first film in the popular young adult franchise, which took in $19.7 million back in 2012. Assuming the film continues to perform as well this weekend, Catching Fire may very well break the record for a domestic opening weekend in November. This, according to Variety, which reports $160 million as the high-estimate for the Francis Lawrence-directed adaptation. Whether it hits that remains to be seen, but there's no doubt that it's off to a good start already.
Though its official release date isn't technically until today, The Hunger Games: Catching Fire clearly benefited from the various late night screenings last night. Of course, "late night" is a relative term, as the film's early debut consisted of more than just a single midnight screening. My local theater had numerous screenings available last night, beginning at 8:00 p.m.. I caught the 11:00 p.m. IMAX showing and the theater was packed. Assuming other theaters offered that many options for fans who wanted to see the film as soon as humanly possible, that would certainly explain the massive box office haul last night. Popularity and the success of the first film obviously played their part as well.
Based on a popular young adult series from Suzanne Collins, The Hunger Games stars Jennifer Lawrence as Katniss Everdeen, a teen from District 12 of the fictional nation of Panem, which holds an arena-style event each year that requires two kid tributes from each district to engage in a fight-to-the-death match for the entertainment of the Capitol. As you may have surmised by the trailers, the sequel puts Katniss back in the arena, once again trying to fight for her life, while also emerging as a symbol of rebellion for the restless commoners who are growing tired of being under the thumb of the Capitol and the ruthless President Snow (Donald Sutherland).
Our own Eric Eisenberg gave the film four stars in his review, offering praise for the sequel and specifically to Sam Clafin, who plays Finnick Odair, a newcomer to the story. I have to agree with Eric on both his appreciation for the film and Clafin's performance. Clafin, Jena Malone and Phillip Seymour Hoffman are all outstanding additions to an already fantastic ensemble of actors, which includes Jennifer Lawrence, Josh Hutcherson, Woody Harrelson, Stanley Tucci and Elizabeth Banks. And the cast is just one reason to see the film. While I'd also agree with Eric that the ending seemed a bit abrupt — if memory serves, it stays pretty true to the book in that respect — it's non-stop entertainment, pretty much from beginning to end, which is a major plus, considering the film clocks in at somewhere near two and a half hours. It's time and movie ticket money well spent in my opinion, and given the box office numbers for last night, you may want to consider getting to the theater a bit earlier than usual if you're planning on seeing it this weekend.
Kelly joined CinemaBlend as a freelance TV news writer in 2006 and went on to serve as the site's TV Editor before moving over to other roles on the site. At present, she's an Assistant Managing Editor who spends much of her time brainstorming and editing feature content on the site.
Your Daily Blend of Entertainment News
Thank you for signing up to CinemaBlend. You will receive a verification email shortly.
There was a problem. Please refresh the page and try again.