The Hunger Games: Catching Fire Casts Brutal Tribute Enobaria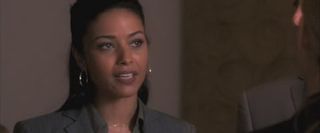 We've still got tons of casting updates coming in about The Hunger Games: Catching Fire, and still, they're not about the most interesting new role, Finnick. But Meta Golding, who has just been cast to play Enobaria in the hotly anticipated sequel, will still have a lot to chew in her new role, playing a former Hunger Games winner who's famous for winning her own Games in a particularly brutal way: by ripping out another player's throat with her teeth.
Lionsgate, which announced Golding's casting today, hasn't announced who will play Brutus, a fellow former Games winner from District 2 who, true to his name, is just as tough as Enobaria. As for Golding, you might recognize her from any number of roles on TV, from recent appearances on CSI: Miami and NCIS: Los Angeles to a stint on the short-lived series Day Break. Golding is a little more glamorous and Hollywood-style pretty than I expected, but then again that's what we all said about Jennifer Lawrence when she was cast as Katniss, and we all know how that turned out.
If you haven't been keeping up with all the casting news about Catching Fire-- and how could you, really, given how fast they come?-- the latest additions to the cast are all fairly small. Patrick St. Esprit has joined as Peacekeeper Romulus Thread, Lynn Cohen is playing former District 4 winner Mags, and Philip Seymour Hoffman has been confirmed as Gamesmsaker Plutarch Heavensee. The biggest new addition is definitely Jena Malone, who will play fiery former tribute Johanna Mason. Francis Lawrence is joining the production as director this time, and the film is currently set for release November 22, 2013.
Your Daily Blend of Entertainment News
Staff Writer at CinemaBlend