Hunger Games' Isabelle Fuhrman Replaces Chloe Moretz In The Wilderness Of James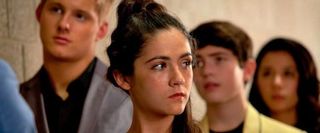 Among the crop of emerging ingénues in Hollywood, there are two who are not only compelling screen presences but also thoroughly terrifying: Chloe Grace Moretz and Isabelle Fuhrman. After Moretz won our hearts with her foul-mouthed panache in Kick-Ass, she utterly horrified us as the vampire girl at the center of the Let the Right One In remake Let Me In. For her part, Fuhrman totally freaked out audiences as the creepy adopted daughter of the 2009 thriller The Orphan then followed it up with a role as a gleefully murderous tribute Clove in The Hunger Games.
As the two fill a similar casting niche, it's likely their names have and will continue to be mentioned in the same breath as projects that demand a stirring young actress roll into preproduction. The latest among these is The Wilderness of James. The Portland-set coming-of-age indie stars Kodi Smit-McPhee, and just last month it seemed he and his Let Me In co-star were close to a reunion with Moretz entering into talks to join. However, Deadline reports that the production schedule of Kick-Ass 2: Balls to the Wall conflicts with The Wilderness of James, and so Moretz is out, Fuhrman is in!
Penned by first-time filmmaker Michael Johnson, this drama has Smit-McPhee playing a boy coming to grips with the absence of his father. Fuhrman will take on the female lead Val. Unfortunately, there are no other details about her character, but bearing in mind the casting considerations, we can safely assume Val is the kind of gal who doesn't suffer fools kindly.
The Wilderness of James is scheduled to shoot next month. Fuhrman will next hit theaters in the summer of 2013 opposite Jaden and Will Smith in their father-son sci-fi epic After Earth.
Your Daily Blend of Entertainment News
Staff writer at CinemaBlend.