The Hunger Games: Mockingjay Hires Game Change Writer Danny Strong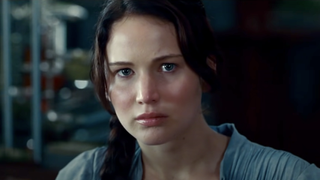 (Image credit: Lionsgate)
Danny Strong, the actor-turned-writer who's both a fan favorite from Buffy the Vampire Slayer and a multiple Emmy winner for the HBO movie Game Change, has just set up what has to be his biggest gig yet.
Variety reports that he's just signed on to direct the two-part The Hunger Games: Mockingjay, the conclusion to the film series that's already a worldwide phenomenon.
Pulling the same move that Harry Potter and Twilight did before, the producers behind The Hunger Games are splitting the book Mockingjay into two parts; in this case, it actually makes sense, since the book takes place during a massive battle for the future of the fictional country of Panem, and there's plenty of space to add in more detail. Strong being hired to write both indicates they'll be shooting the two films simultaneously, which is also how Harry Potter and the Deathly Hallows and The Twilight Saga: Breaking Dawn went about it. But with the decision to split the film into two made well, well ahead of time, Strong will be able to plan them properly and possibly make each of them a satisfying narrative on their own.
There's no director yet set for the Mockingjay job, but the films already have release dates-- the first part will arrive November 21, 2014, with the second installment coming nearly a year later, on November 20, 2015. Meanwhile the second film in the series, Catching Fire, is currently shooting near Atlanta, with Francis Lawrence behind the camera, working with a script from Simon Beaufoy. It will be released November 22, 2013.
(Danny Strong image via Helga Esteb / Shutterstock.com)
Your Daily Blend of Entertainment News
Staff Writer at CinemaBlend