The Hunger Games Now Projected For $100 Million Opening, And Probably More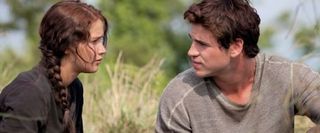 Two weeks ago, when I wrote about the first tracking numbers for the opening weekend of The Hunger Games, I scoffed at the people who would attempt to compare it to the first Twilight movie, arguing The Hunger Games is a much bigger phenomenon and is bound to open much bigger. Turns out, the tracking numbers thought the same thing, and with a little over a week left to go before the movie opens, box office predictions for The Hunger Games have been ramped up considerably. According to new figures at THR, the movie could open even bigger than Breaking Dawn Part 1, which had a huge $138.1 million opening weekend back in November.
Most experts are sticking in the $100 to $120 million prediction range, but with legions of loyal fans and a lot more people who might be intrigued by the marketing, The Hunger Games is exactly the kind of movie that could easily surprise on opening weekend. The marketing seems to be working, too-- definite interest jumped from 55% to 60% in the last week, and while 75% of people surveyed were aware of the film last week, now 83% are. As a rival studio executive told THR, "Numbers don't get much higher than this. Hunger Games is tracking like a sequel, even though it isn't a sequel."
And to answer the lingering question that's hovered around this franchise from the very beginning-- yes, men seem to be interested. Interest among males younger than 25 was at 28%, compared to 10% for Breaking Dawn. That's a "no duh" conclusion if you've read The Hunger Games, what with its violence and nail-biting scenes of tension, but it's very easy to conflate "book with a heroine" with "chick book," and i imagine there are still plenty of guys who would love The Hunger Games who still haven't read the books. Once the movie becomes a phenomenon-- which seems pretty much destined at this point-- maybe they'll have no choice.
Your Daily Blend of Entertainment News
Staff Writer at CinemaBlend
Your Daily Blend of Entertainment News
Thank you for signing up to CinemaBlend. You will receive a verification email shortly.
There was a problem. Please refresh the page and try again.