The Hunger Games Releases Seals Representing Each Of Panem's Districts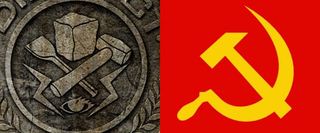 If you're unlucky enough to get selected for the Hunger Games, you've got a long road ahead of you. Sure your path to the games takes you through luxurious accommodations, feasts beyond imagination, and fame among the 12 districts of Panem. But once you enter the games, you're in a fight to the death--a 24 person battle for supremacy.
The Hunger Games, based on the wildly popular novel by Suzanne Collins, is the most widely anticipated film about vengeful teenagers since Twilight. Lionsgate has released some excellent "seals" through their Hunger Games viral site, which links to a series of Facebook pages representing the Panem districts. The artwork look awesome. Keeping with the feel of the viral site which subtly hopes to separate your loyalties by distributing viewers into the districts (mine is 10, livestock, and Katniss Everdeen's is 12, mining), the seals play on the individuality of the districts. Check a couple out below.
Each of the districts represented has a seal that feels almost Soviet. Shadows of the iconic hammer and sickle that represented the USSR can be seen here, representing that an all-powerful government is lording over their underlings. It's really nice design.
With filming wrapped up, The Hunger Games is on track to meet its March 23, 2012 release date, and so far it feels like Lionsgate is really committing to it. The viral site, which is a virtual tracker for the evil Capitol, even went as far as registering the URL thecapitol.pn, instead of .com, for Panem. They're really drawing fans in and selling the reality of the series. It's the same approach District 9 took, and that seemed to work out just fine.
The Hunger Games will undoubtedly crush at the box office so it's safe to say that we're going to see all three of these books get turned into movies. We'll be seeing more from this very soon, so check back regularly for updates.
Your Daily Blend of Entertainment News
Thank you for signing up to CinemaBlend. You will receive a verification email shortly.
There was a problem. Please refresh the page and try again.