Ice Cube Lashes Out Against MTV Awards For Losing To Paul Walker, Quickly Apologizes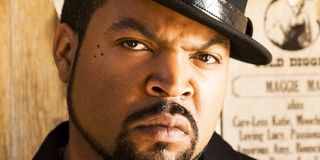 Nobody cares about the MTV Movie Awards more than Ice Cube. The rapper-actor had received a nomination with Kevin Hart for Best Onscreen Duo, for their team-up in Ride Along. Ultimately they lost the award to the coupling of Vin Diesel and the late Paul Walker in Fast And Furious 6. And so life moved on. But not for Ice Cube, who decided to make a stand and slap his foot deep into his own mouth. Speaking to USA Today (via Us Weekly), Cube vented to the publication,
Cube also went on to credit Walker's win to a "sympathy" vote, saying they should have given it to him "before he passed away." Which is sort of true, that sympathy played a part: Walker was lost to fans entirely too early into his career. But come on, Cube. Ride Along grossed a solid $149 million worldwide. Fast And Furious 6 closed out at $788 million. That's more than a 5:1 ratio! I guess it's good to stand up for co-star Kevin Hart, but people really like those movies. This isn't some tiny indie that's being forced into the system because people only care about a dead celebrity. And Ride Along isn't exactly Goodfellas losing the Oscar to Dances With Wolves.
Of course, he deeply cares about the award, but the ceremony itself isn't his bag. Apparently, every time Cube attends, he bolts early. I wonder if he goes to The Player's Club.
How awesome would it be if major movie stars started doing this at other awards shows? If, during another interminable montage or clip presentation, Sandra Bullock just peaced out of the Oscars halfway through the show? Or if we could somehow exit the building during the Golden Globes and find a couldn't-be-less-interested Paul Giamatti getting a smoke?
The MTV shows are their own thing, of course, mostly geared towards kids. And Cube, who has done his share of kids' films, and even appeared on Nickelodeon once or twice, is 44. You might be able to turn on TBS right now and seem Cube making a fool out of himself in Are We Done Yet? but it's easy to see that he's got no patience for that sort of tomfoolery. Dude still likes his awards, though. Maybe he'll get one next year for 22 Jump Street.
On Monday, he Tweeted a clarification, however, recanting his words.
With that apology accepted, Ice Cube could finally sit back and relax. Today was a good day.
Your Daily Blend of Entertainment News