Idris Elba's Beasts Of No Nation Trailer Is Harrowing And Intense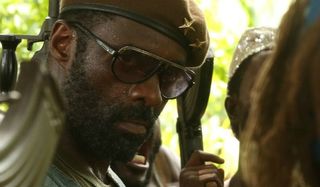 What does it take to turn a young boy into a hardened killer? That is the question that Netflix's first ever original movie – Cary Fukunaga's Beasts of No Nation – aims to answer. A powerful trailer for the film – showcasing the endless talent of actor Idris Elba— officially went online today in anticipation of the film's October release. Check it out below,
Beginning with the Commandant (Idris Elba) and his militia of child soldiers finding a young African boy named Agu (newcomer Abraham Attah) in the wilderness after his family has been murdered in front of him during an ambiguous civil war in an unnamed African country, the trailer roughly chronicles Agu's indoctrination into the militia, and his descent into violence. Agu's time in war exposes him to the visceral carnage of war, and the worst of humanity, but also envelops him in the familial safety of the militia. He shows fear, he shows trepidation, but eventually his hesitation to pull a trigger or swing a machete gives way for his evolution into the man the Commandant wants him to become. The film is an adaptation of a 2005 book of the same named, and appears to adhere to a similar plot.
There's so much to dissect and appreciate within the trailer; the cinematography is beautiful (although what else would you expect from Cary Fukunaga), and for such a young actor, Abraham Attah seems to possess an incredible level of maturity to take on the role of Agu. Arguably the most noteworthy element is the powerhouse performance by Idris Elba. In keeping with much of the marketing leading up to the film's release, Beasts of No Nation seems to be taking a well-rounded look at Elba's character, focusing on the ways he keeps his child soldiers safe, and fosters a family out of necessity, but also how he corrupts their souls and turns them into killers – the poster for the film describes him as a "savior," "ruler," and a "criminal." There are similarities to any number of real life headlines – such as the recent, controversial Joseph Kony – but by keeping the nature of the war relatively ambiguous, Beasts of No Nation successfully maintains an ambiguity that seems to give it a certain timeless quality.
Idris Elba himself has been at the forefront of headlines lately after novelist Anthony Horowitz described him as "too street" to potentially one day take up the mantle of James Bond after Daniel Craig steps down. If nothing else, Beasts of No Nation looks like a confirmation that the actor has the charisma, intensity, and versatility necessary to pull off such a role.
Beasts of No Nation will hit Netflix – as well as experience a limited theatrical release – on October 16.
Originally from Connecticut, Conner grew up in San Diego and graduated from Chapman University in 2014. He now lives in Los Angeles working in and around the entertainment industry and can mostly be found binging horror movies and chugging coffee.
Your Daily Blend of Entertainment News
Thank you for signing up to CinemaBlend. You will receive a verification email shortly.
There was a problem. Please refresh the page and try again.