How Idris Elba Almost Died On The Beasts Of No Nation Set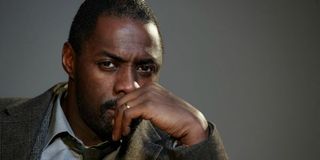 I'm going to guess that many of you, like myself, think that Idris Elba is basically unbreakable. Just look at him. The man is an Adonis. However, it turns out that there is one person who has the capabilities to kill Idris Elba, and that is Idris Elba himself. The actor just revealed that he was almost the architect of his own death on the set of his new film, Beasts Of No Nation.
During a recent expose for Variety on Elba and the film, the actor explained that he almost plunged to a rather gory and horrific death while filming the Cary Fukunaga-directed drama. This incident occurred while Elba was out in a Ghanaian jungle for the low-budget flick, which has been described as a "guerrilla-like shoot." The piece explains:
Well, that would have been a rather unceremoniously end to one of the most talented actors of the modern age. Elba is now able to see the funny side of his brush with death, however, he admitted that he was just one big branch away from slipping to his death.
Luckily for us, and for the cast and crew of Beasts Of No Nation, who would have had a very hard time explaining the circumstances that led to Idris Elba plummeting to his death, the actor survived. Elba admitted during the same piece, "It was a moment where I was like, 'This is the real deal'."
There is a lot of pressure on Beasts Of No Nation. Netflix put $6 million into the film, which is based upon Uzodinma Iweala's 2005 book of the same name. Starring Idris Elba, Ama K. Abebrese, Gracey Nortey, and David Dontoh, it is set in a West African country that is being torn apart by a civil war. In the midst of this horror, a small boy named Agu (Abraham Attah) joins a group of mercenary fighters, led by Idris Elba's Commandant.
The above trailer certainly suggests that Beasts Of No Nation is an authentic look at some of the real-life horrors that are genuinely taking place in parts of Africa. It also looks as though it will have a ruthlessness that is often missing from more sugary mainstream productions.
Written and directed by Cary Fukunaga (True Detective and Jane Eyre), Beasts Of No Nation will show at the Venice, Telluride, and Toronto film festivals, which will give us an indication of its prowess before it premieres on Netflix on October 16.
Your Daily Blend of Entertainment News