The Impossible Director To Helm Warner Bros' Untitled Sci-Fi Feature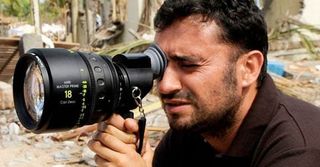 A disaster movie out of Spain became a massive international hit this year, and the man to thank is Barcelona-born filmmaker Juan Antonio Bayona. Based on the true story of one family's survival of the 2004 Indian Ocean tsunami, The Impossible showed movie audiences the catastrophe's widespread and horrific devastation by focusing on a family's journey to survive and reunite. The Spain-produced English-language film has not only become a record-breaking box office sensation in Spain, but also has earned scads of critical acclaim. With successes like this to his credit, it was just a matter of time before Hollywood came calling. And it looks like Bayona will make his first American-produced movie with Warner Bros.
Variety reports Bayona has signed on to helm an untitled science fiction project for the studio. However, no details on the project's plot or premise are being revealed. Still, let's speculate based on what we do know.
Its screenplay was penned by Eric Roth, the scribe behind The Curious Case of Benjamin Button and Forrest Gump. Kevin McCormick, who recently produced Gangster Squad and The Lucky One, will produce. As all of the above are adaptations, it's easy to guess this unnamed property won't be an original story. Add in Bayona's involvement, I'd assume this pic will have horror leanings. Bayona first drew notice with the Goya Award-winning horror-thriller The Orphanage, and his horror influences were very vivid in The Impossible's scenes of flooding and body trauma.
Regardless of the particulars of this project, it's easy to see why Warner Bros. picked Bayona. He's a talent on the rise who already has an international reputation. But perhaps more importantly, he clearly knows how to manage a big budget and massive amounts of CGI. The tsunami scenes in The Impossible are so terrifyingly and breathtakingly realistic that those alone could have been enough to score Bayona Hollywood directing gigs. Thankfully, this filmmaker also has a dark and intriguing point of view.
Your Daily Blend of Entertainment News
Staff writer at CinemaBlend.