When Independence Day 2 Will Actually Release Footage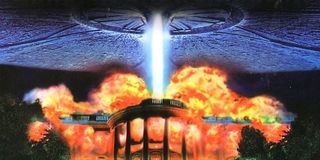 Roland Emmerich recently announced the end of filming on his long-planned Independence Day 2, subtitled Resurgence. The director had been shooting in Albuquerque, New Mexico, and he commemorating the wrap with a photo of a double rainbow. So, when will fans get to see the first footage of this highly anticipated film?
I spoke to the director for his latest film, Stonewall, about the homeless LGBT youth of NYC during the historic Stonewall Riots. Towards the end of our conversation (of which you'll hear more in the coming days), I asked whether or not we would get an Independence Day 2 trailer by the end of the year. While the first trailer was initially rumored to drop on Independence Day, it did not, and he replied:
Independence Day: Resurgence picks up years after the first film, which starred Will Smith and Jeff Goldblum. Though Smith will not appear in this film, Goldblum will, and he'll do so in a world where the government is using scrap alien technology to create a new line of defense in case of any future alien invasions. Unfortunately for them, they're still left ill-equipped to handle the second alien incursion, and the fate of Earth is once again left in the hands of a small group of brave men and women.
Emmerich, joined by his cast, announced the title and first plot details for the film at a special press conference held at the film's set. During this time, the filmmaker also showed off the film's new spacecraft, The Moon Tug.
Emmerich continued:
In addition to Goldblum, the cast includes the returning Vivica A. Fox and Bill Pullman, as well as newcomers Liam Hemsworth (Hunger Games), Joey King (White House Down, Stonewall), William Fichtner (TMNT), Charlotte Gainsbourg (Nymphomaniac), Sela Ward (Gone Girl), Maika Monroe (The Guest), and Jessie Usher (When the Game Stands Tall).
Independence Day 2 is scheduled to hit theaters on June 24, 2016. According to Emmerich, there are no reshoots planned for it right now, he's done. Meanwhile, Stonewall starring Jeremy Irvine, Jonny Beauchamp, Jonathan Rhys Meyers, Ron Perlman, Joey King, and Caleb Landry Jones premiered at the Toronto International Film Festival late last week. It drops into theaters this coming weekend.
Your Daily Blend of Entertainment News