Inside Insidious Chapter 2's Live Stream Q&A With James Wan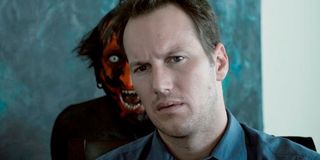 Later today the trailer for Insidious: Chapter 2 will be unveiled at Apple, but last night it played before a bunch of bloggers giddy to see what director James Wan, who brought us Saw, had in store with his upcoming venture. The trailer tells us two years have passed since the cliffhanger finale of the haunted house horror that was Insidious. The Lambert clan has picked up and moved to a new home, and have welcomed a cuddly new addition into their family. Unfortunately for them, ghostly terrors have followed them, and these ghouls want the baby.
The trailer teased some creepy imagery as well as the filmmakers' prized location of Linda Vista Hospital in Los Angeles. It was there that the West Coast wing of this event took place, while I watched it all from a cushy screening room in New York City, regrettably far from the mic that allowed California attendees to ask questions. Still, a giddy Wan shared several enticing tidbits about his upcoming sequel. First and foremost, it was important to him and screenwriter Leigh Whannell not to just bring in a new family to take the same steps the Lamberts did in the first film. Instead, Wan insists, this isn't so much a sequel as a "continuation of the first film" with a "slightly different flavor."
With Patrick Wilson, Rose Byrne, and Barbara Hershey eager to reprise their roles, Wan and Whannell looked for a fresh way to continue their characters' arcs. Though not everyone was thrilled to play in Wan's creepy world. One young castmember, Wan admitted, was truly scared on set. And while he felt bad for the youngster, he felt it made the child actor's performance even stronger. Where Insidious was a twist on the haunted house subgenre, Chapter 2 is a twist on the domestic thriller genre "with a pervasive supernatural undertone," "in the realm" of The Shining. Like the first, its scares are grounded in a realistic world, and created with practical effects. And while Wan was careful to avoid major spoilers, he was willing to tease the inclusions of flashbacks to Josh's childhood, astral projection plot lines, and time travel.
On a more personal note, Wan confessed he has experienced paranormal activity of his own. While visiting New York City one Christmas, he awoke in a hotel room because he heard a woman whimpering. He could see her figure, dressed in Victorian grabs, at the foot of her bed, but couldn't make out her face. A self-described "chicken shit" who is "afraid of everything" he reached blindly for the light, afraid to turn away from the weeping ghost, lest she sneak up on him! "I've seen too many horror movies," he told a chuckling crowd. When he turned on the lights, she was gone. Based on the teased trailer, this experience informed Chapter 2, which contains a woman in white old school clothes slinking through the Lambert's new home.
Wan believes it is his fear flamed by walking around in dark places (including his own home) that not only inspires him to make horror movies, but also makes him skilled in their creation. Besides his own fears, he pulls inspiration from filmmakers like Steven Spielberg, Alfred Hitchcock, James Cameron, and Dario Argento. But if he could have his pick of projects, he would make a comic book movie... maybe also starring Patrick Wilson. That or he'd like to make a live-action Beauty and the Beast with a scary beast at its core.
Look for Insidious: Chapter 2's trailer later today. The movie itself will open on Friday the 13th this September. In the meantime, Wan will release another Wilson-fronted horror thriller. The Conjuring opens July 19th.
Your Daily Blend of Entertainment News
Staff writer at CinemaBlend.