On The Set Of Insidious Chapter 2: Touring One Of The Creepiest Places On Earth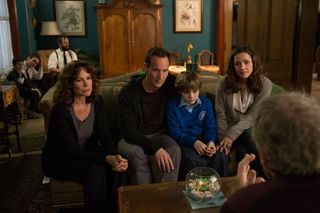 When Insidious premiered in 2010, most people thought the movie would come and go, earning a moderate first weekend take and promptly falling by the wayside as so many other low budget horror flicks have. By the end of its theatrical run, however, director James Wan's creepy story about gas masks, astral projections and The Further had grossed almost $100 million, picked up a sizeable cult following and had studio executives talking about a sequel. The announced follow-up picked up some serious momentum near the end of 2012, and it was wrist-deep in the filming process when I was invited to tour the set at the beginning of March - at one of the creepiest places on Earth.
Linda Vista Community Hospital is, on the surface, a dilapidated and filthy hospital on Los Angeles' south side that has been closed for more than two decades. Beyond that, however, it's also a preferred shooting location for movies and television programs, and allegedly a hive of paranormal activity - if you're into that sorta thing. Insidious screenwriter Leigh Whannell is. He actually took his wife and a bunch of ghost hunters he recruited off Craigslist to tour the place, and long story short, she has no interest in ever coming back. Her husband, obviously, feels differently, and he and longtime collaborator/ Insidious Chapter 2 director James Wan decided the location would be a perfect place to set the much-anticipated sequel.
The keys to Linda Vista's longtime success as an industry location are how many different possibilities it offers. The long stretch of hospital rooms on the main floor, for example, can easily be made to look like a fully equipped and working medical center, as it was in Pearl Harbor. The many open walkways and congregating areas can be refashioned as rooms without ceilings, allowing for different camera angles. The all but forgotten basement inlets designed to house medical files can be filmed as they sit now, messy and ruinous, and Linda Vista's upper attic area absent windows? Well, it turns out with the right shade of black curtains and some inventive camera angles, it's a perfect double for the Further, which will most definitely be in play again this time around. With so many different options, it was always the most sensible place to film, according to Whannell, because it allowed everyone involved to manufacture so many different locations and to "use the hospital as it was originally intended".
No one involved with Insidious Chapter 2 was particularly keen to talk about the specifics of the follow-up's plot when myself and a small group of film journalists sat down for a long discussion with the cast and crew , but we do know the events of the latest installment pick up immediately after the last one ends. There will be a bit of a wrap-around story arc with some investigations into the past, and not surprisingly, everyone is pumped to be back.
Said Whannell, "For me, it's surreal just to see everyone because this is a sequel that brings back literally everyone from the first film. So, a lot of sequels you see will maybe keep a couple of characters and change the rest around, but everyone is back. So, it just feels surreal, and everyone is wearing the same clothes (because it picks up right after the first film ends)."
Sometimes a little bit of a mystery is a great thing. We live in a time in which everyone wants to know as many details about movies coming out as possible. Trailers seem to be on a quest to highlight as many key moments in almost a blow-by-blow account as possible, and yet, here we have a film and a team that truly seem to appreciate the value of secrets. Numerous times during the interview, Wan and Whannell cautioned the actors not to go too specific with their explanations in order to maintain the aura of mystery, which was sure as hell present during the filming of a scene we were allowed to watch.
The shot featured Babara Hershey and some scary lighting, and we were given no context for where it fell in the film or how it fit into the plot. But watching the screen legend utter line after line about a brutal and horrifying injury without ever breaking character was enough to make me appreciate her more, and make me even more excited to watch this bizarre and fundamentally weird film. And it's a good thing, too, because it turns out that Insidious Chapter 2 might be the acclaimed director's last effort in the genre. Said the filmmaker about continuing with the type of projects that made him famous, "I think this could be my last horror film. I definitely want to try something different."
Wan has always prided himself on making wise choices and taking less money in order to maintain as much control over his films as possible. Given his incredible success in the horror field, that hasn't been a huge issue up to this point. But with a deluge of new opportunities staring him in the face, it's likely he will learn a new method of big money collaboration. Maybe it will drive him to make more movies like Insidious 2. Maybe it will convince him to stay away. Either way, there's no reason to think he won't continue to surprise us in all the best ways.
Your Daily Blend of Entertainment News
Enthusiastic about Clue, case-of-the-week mysteries, the NBA and cookies at Disney World. Less enthusiastic about the pricing structure of cable, loud noises and Tuesdays.
Your Daily Blend of Entertainment News
Thank you for signing up to CinemaBlend. You will receive a verification email shortly.
There was a problem. Please refresh the page and try again.