This Insidious 3 Clip Will Seriously Creep You Out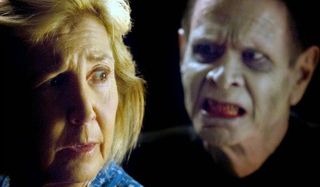 The latest clip for Insidious: Chapter 3 has been released, and it is deliciously spooky. You can have a gander and be slightly freaked out by it below.
Scary stuff. Stefanie Scott's Quinn Brenner is the target of a variety of supernatural entities in the third installment to the franchise, while Lin Shaye stars in the clip as the wary psychic Elise Rainier - who despite being well aware that her ability to contact the dead is incredibly dangerous, is still convinced to do just that by her young visitor.
Quinn seeks out Rainier's unique ability in order to contact her mother, and as you can see it all doesn't go according to plan. Insidious: Chapter 3 is actually set before the antics of the first two instalments to the franchise, which saw the Lambert family overwhelmed by a variety of ghosts and demons. These entities are able to do just that because their son had fallen into a comatose state and become a vessel for them.
Initially led by the always watchable Rose Byrne and Patrick Wilson (who as Renai and Josh Lambert might just be the best looking on-screen couple in movie history), the Insidious franchise has been quite the moneymaker – which explains why this new sequel is coming so soon after its predecessors. The first film was released back in 2010, and its $1.5 million budget returned $97 million at the box office. Of course, this instantly saw a sequel ordered. And because they were able to keep the main cast and creative talent from the original onboard the follow-up managed to eclipse the gross of its predecessor. But while Insidious: Chapter 2 had those elements working in its favor and succeeded as a result, one must wonder how the big plot direction changes of Insidious Chapter 3 will change things.
Not only have Patrick Wilson and Rose Byrne left, but its co-creator and director James Wan has moved on too. There is still hope, because Leigh Whannell - who wrote the first two as well as the third instalment to the franchise - has decided that the time is right to make his directorial debut with the film, and he should at least maintain some stability.
Replacing Patrick Wilson as the lead is Dermot Mulroney, while Leigh Whannell will also step in front of the camera again too as his character Specs. And even though the summer is packed to the brim with warring action franchises, there's every chance that Insidious: Chapter 3 will match the success of its previous films, simply because plenty of movie fans can't resist a good scare.
Insidious: Chapter 3 will be released on June 5, 2015.
Your Daily Blend of Entertainment News
Your Daily Blend of Entertainment News
Thank you for signing up to CinemaBlend. You will receive a verification email shortly.
There was a problem. Please refresh the page and try again.