Interactive Jurassic World Video Puts You Near Chris Pratt During Thrilling Scene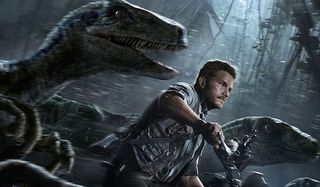 Watching Chris Pratt riding a motorcycle through the woods leading a pack of semi-trained Velociraptors into battle was one of the most exciting scenes in Jurassic World, a movie full of exciting scenes. A new interactive video puts you right in the middle of the action as the star and cast and crew filmed the high-speed chase. Check it out below.
While you watch this video you can focus on Pratt's Owen Grady as he guns it through the dark jungle, on his way to throw down with an escaped genetically engineered dinosaur killing machine. Or if you're more interested in the technical side, you can turn your view around and watch what is going on behind the scenes and see what the filmmakers sitting in truck get up to while staging such a cinematic moment. Hell, you can even just turn to one side or another and check out the foliage as is zips past the rig.
This is the second such interactive video for a major motion picture that has hit the airwaves in recent days. Late last month Star Wars: The Force Awakens dropped a similar video that placed viewers in the drivers seat of a speeder bike as it blasted around the desert planet Jakku where Daisy Ridley's character Rey lives, offering up a new perspective on a number of sights from the movie.
The Star Wars video is obviously designed more as a marketing tool, while this Jurassic World clip is more of a behind the scenes look that, while interesting in its own right, especially for those of you interested in seeing the mechanics of how a movie gets made, doesn't really reveal anything new. Still, it's pretty damn cool.
After stomping through movie theaters worldwide last summer, and becoming the third highest grossing movie of all time in the process, earning $1.6 billion, Jurassic World finally hits Blu-ray and DVD tomorrow. It's been available digitally and on VOD for a while, but now you can grab your very own physical copy of the movie, which arrives with a collection of bonus features that includes deleted scenes and a ton of featurettes. If you're a fan of the movie, and judging by how much money it made, there are quite a few out there, this promises to be a release you're going to want.
Your Daily Blend of Entertainment News