The Interview Will Not Get A VOD Release From Sony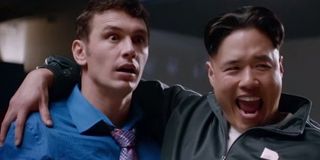 In case you were asleep the past couple of hours, or happened to lose internet/get caught up at work, The Interview has officially been canceled for theatrical exhibition. Press screenings in New York and Washington DC have also been scrapped, and while it looked like a brief moment that Sony Pictures would be entertaining the idea of distribution through VOD services, we have some bad news. It saddens us to tell you that as of this moment, it looks like we're never going to see The Interview in any way, shape, or form.
The Hollywood Reporter is saying that Sony Pictures, in accordance with wishes of the mass exodus of theatrical exhibitors, has decided to halt any sort of release of The Interview for public consumption. According Sony's statement:
Of course, the moment that Sony Pictures allowed theatrical chains to drop out of showing The Interview, this seemed like nothing more than self fulfilling prophecy. But to the larger point, for Sony not to release the Seth Rogen/James Franco comedy - at the very least in a limited VOD release window - is absolutely absurd and only wastes the $44 million that was spent on making the film (not to mention whatever marketing expenses were allocated.
To be fair, this wasn't an easy decision for Sony Pictures Entertainment to make, and this has been a situation that the studio has been dealing with for a fair amount of time. Six months ago, Sony's problems with The Interview began with some strong words out of the North Korean foreign ministry. Naturally, North Korea's history of saying whatever they want, and inability to launch a military attack on the mainland United States both caused the world to wave off the warning, and for Sony Pictures to continue with the film's planned Christmas release.
Jump ahead to the end of November, when Sony Pictures was initially breached by the Guardians Of Peace: an activist group that did not initially make any demands, but nevertheless compromised the studio's well being by leaking everything from social security numbers to screener copies of films like Annie and Fury. Finally, Sony was given an ultimatum to either shelve The Interview or suffer the consequences. Which leads us to the present day, where those consequences have been named as 9/11 style terror attacks on any theater that showed The Interview.
Not matter how you slice this situation, The Interview's deep freeze is a situation more damning and more damaging than any of the Sony hacks – outside of the personal identity breaches, of course. It's going to be interesting to see how the studio responds in the coming days, as well as to see how Seth Rogen and James Franco respond to the shelving of their long awaited satire. Tomorrow morning is going to be a very interesting start for sure, and you're going to want to keep it here for updates as they come.
How Will This Affect Sony?
If you didn't think Sony Pictures Entertainment was in enough trouble with the information breach that's been visited upon their offices, brace yourself... it could get severely worse. For starters, Seth Rogen and James Franco have always had a great relationship with Sony, and have made them some serious money in the past. What Sony must have neglected to think about during this crisis was that Rogen and The Interview co-director/writer Evan Goldberg also had another film on the way for distribution with Sony Pictures, the animated Sausage Party. I certainly hope Sony didn't expect to make a lot of money off of that film, because if I were Rogen and Goldberg, I'd be looking for every sort of way out of their contract for distribution, since it's probably too late to cut the funding ties.
Further along the blast radius, any friends and co-stars of Seth Rogen and James Franco are likely going to be infuriated by such a slap to the face of creative talent that trusted Sony to stick to their guns and release their content as specified. In fact, celebrities are already angry about this happening, and have taken to Twitter to voice their displeasure. Hoping to see 23 Jump Street any time soon? Jonah Hill and Channing Tatum - both of whom appeared in Rogen and Goldberg's This Is The End - might not be so willing to sign the dotted line.
How Will This Affect Hollywood?
Finally, and most devastatingly, the Hollywood box office is looking to take a bit of a hit as The Interview was the only real counter-programming to the Oscar bait and family fare that usually dominate the Christmas holiday. As if 2014 wasn't already a bad enough year for box office grosses, this last punch might put the market down for the time being. No matter how you slice it, Sony Pictures Entertainment has caved to the demands of terrorists. It has disrespected its contractual obligations, as well as the obligations to foster and protect creators and their content. This isn't something to be mentioned lightly, as this could potentially put the ailing studio on its last legs.
CinemaBlend's James Bond (expert). Also versed in Large Scale Aggressors, time travel, and Guillermo del Toro. He fights for The User.