Interview: Sneaking Into Harvard Club With The Social Network Stars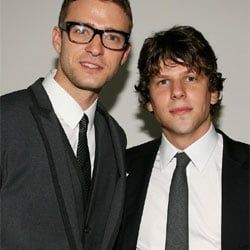 On Friday night, following the New York FIlm Festival premiere of The Social Network, the cast and filmmakers and Lincoln Center bigwigs and other film industry types all went to Manhattan's Harvard Club to celebrate. For some unfathomable reason, I was invited too, and spent the night drinking specialty cocktails within earshot of David Fincher and beneath the limitless number of mounted animal heads (there was an elephant, I swear to God).
I left the party around 2 a.m. and returned 7 hours later, miraculously, to find the Harvard Club a completely different place, set up for a press conference with all the big Social Network names (sans Fincher, who was back to Sweden for The Girl with the Dragon Tattoo). As a blogger accustomed to either working from home while wearing free T-shirts or covering Comic Con, I was certain I'd be swept back out of the Harvard Club any second. Looking much better for the wear than I did (they probably avoided the specialty cocktails entirely) and much more appropriately dressed for the Harvard Club's dress code, screenwriter Aaron Sorkin and stars Andrew Garfield, Jesse Eisenberg, Justin Timberlake and Armie Hammer took to the makeshift stage to answer questions about the movie. There were plenty of dumb ones-- it was a press conference, after all, but here are some of the highlights.
Jesse Eisenberg, on what he would do if given the chance to meet the real Mark Zuckerberg:
On a similar note, another reporter asked Eisenberg his general impression of Zuckerberg after doing so much research:
One reporter lobbed a question about peoples' obsessions with social networks in an attempt to get Justin Timberlake to fess up his online habits. He was way too smart for that. Here's what he said instead:
Andrew Garfield had a hard time getting a word in during the entire press conference-- Timberlake and Sorkin did most of the talking-- but he had a surprisingly sweet and funny take on his working relationship with Eisenberg:
Plenty of people have been talking about the film's opening scene, in which Mark accidentally breaks up with a girlfriend (Rooney Mara) in a conversation that moves astonishingly fast. First here's Aaron Sorkin talking about his goal with the scene and how Fincher made it and the scene after more dynamic:
And here's Eisenberg on his experience shooting the scene 99 times but still being surprised when he saw the final product:
Even though Fincher wasn't at the press conference he was the topic of about half the questions, and nearly everyone talked about their experience working with the famously meticulous director. First up, Sorkin:
Timberlake, along with everyone else, praised Fincher's penchant for many, many takes as an actor-friendly exercise:
Eisenberg, too, said it was actually a blessing to do so many takes
Finally, it was my turn, and I actually wound up getting the last question of the press conference. I wanted to hear from Sorkin and especially Eisenberg their feelings on portraying Zuckerberg, a real person and a public figure, but also a 26-year-old with the majority of his life left ahead of him. Many of his actions in the film took place at a period in life we usually like to chalk up to "youthful mistakes," so did they feel the need to be careful in portraying someone so young? Sadly only Sorkin volunteered an answer, but it was a good one:
And that was it for the day, and the end of my time allowed within the sacred, wood-paneled walls of the Manhattan Harvard Club, a place I feel fairly certain I'll never get to visit again unless for some other kind of junket purpose. In case you somehow haven't heard, The Social Network is a phenomenal movie. See it in theaters this weekend if you know what's best.
Staff Writer at CinemaBlend
Your Daily Blend of Entertainment News
Thank you for signing up to CinemaBlend. You will receive a verification email shortly.
There was a problem. Please refresh the page and try again.