Interview: Taking Woodstock's Demetri Martin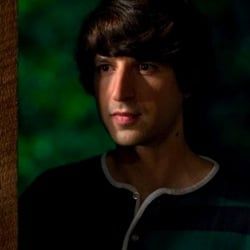 Though the cast of Taking Woodstock is crammed with acting veterans, from Broadway stars like Liev Schreiber and Jonathan Groff to screen talents like Imelda Staunton and Eugene Levy, at the center of everything is a complete newcomer, Demetri Martin. The stand-up comic plays Elliott, the closeted gay son of a pair of Jewish immigrants who provides the permit that makes Woodstock possible, and spends three days witnessing a historic concert that winds up changing his life.
Woodstock is Martin's first major screen role, and at the junket for the movie we talked to him about preparing for the role with Ang Lee, being part of giant scenes among thousands of extras, and having to pretend to take acid. Taking Woodstock opens today, August 28. Check out our interview below.
We've heard Ang Lee isn't really a hands-on director. How did you feel about that jumping in?
For me, it was all new obviously, so I was curious, a little concerned, but mostly kind of curious. Ang had a lot of very specific ideas for me. It wasn't that hands off. He had much more to do with specific performance details than I thought he would. If you look at the movie, there's a lot of scenes where I'm just walking across things, like up a hill. So I'd get to the set, and there would be this elaborate arrangement. Ang would walk me through it, like walk up here, look at the food and be surprised-- and I'd be like, 'OK, be surprised at the food.'
You had a three-week rehearsal period for this film. What was that like?
Each day I didn't quite know what scenes we'd be doing. [Ang] was doing a lot of different thing in those three weeks, but there would be pockets in the day, when they'd say, OK, Ang's ready for you. All of a sudden I'd be in a room with Ang Lee. So I'd do a scene, and he'd be like, do it again, but I want you to be really afraid the whole time. OK? Now do it very loud. I think he was just trying to see what i could do, how much I could give him in different directions.
When they contacted you for this, did you have an acting career in mind already?
Yeah. I realized at some point with stand-up that certain ideas I got were just not a joke. And then you start thinking, let me file that away, and that can be part of a scene, and maybe I can make a film, or a feature. And then I quickly realized, I have to be able to act if I want to do that.
You have something in common with your character, that you came from a family-owned business. What did you parents think when you decided to go into show business?
It's funny, that was really the only parallel that I could find. When I left law school, it was kind of a risk and disappointment to everybody who had raised me and cared about me. So I guess I could draw on that a little bit. The working with the family, I hadn't thought about that, I guess that's true. I worked at my family's diner against my will up until college. I always had to wriggle out of working at the diner. There's a similar thing there for Elliott, this tether to your family. It's part obligation and guilt and family history.
You're playing a simple character, and it's all the characters around you that are the colorful ones. What was that like?
Once I got into production I realized, oh, I'm standing around here a lot. I'm not going to get the ring or anything. I realized quickly, especially as a new actor, if I can just be believable in these scenes, then great, I got through it. It's fun to see these guys who have been there, like Liev. You have a front row seat to this performance, and then how it's different when it's on a flat screen and magnified.
What did you pick up from the variety of people on the set?
If I learned one general thing, it was that, if you're not speaking in a scene, it's so important to not only give to the other actor and stay present and connected, but to realize how much non-verbal communication there is in life. I guess I'm more of a verbal person. With this, each scene seems like a dance, where you have a partner, and you don't want to step on their feet or go too fast or have them dragging you.
Do you have to drop acid to be in that scene?
That was funny, because Ang hadn't dropped acid, and of course I hadn't. So we're standing there, we get to the day, we have all the props and everything, and it's OK, what the hell are we doing here. But David Silver, who was the historian on the movie, but apparently he was a colleague of Timothy Leary's. If he didn't drop acid, it's probably the closest you can get to it. As a comedian you're always taking the piss out of things, so it's funny to be in this honest scene. I hear from off camera "You should probably be worried about your limbs," so I'm like "Where's my arm?" If some of my friends could see me right now, they'd be like "Asshole!"
Your Daily Blend of Entertainment News
Staff Writer at CinemaBlend