Interviews: Messing With Zohan's Cast On The Red Carpet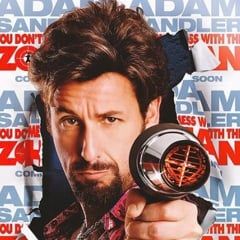 You Don't Mess With the Zohan is a true Adam Sandler comedy, in that it contains a whole lot of familiar faces. Of course Rob Schneider is there! Of course Nick Swardson has a part! This is a group of guys who love working together after all, and in the world of Happy Madison, friendship counts for a lot. So there were plenty of familiar faces on the red carpet for Zohan's premiere on Wednesday, though not all of them were part of the film. Jimmy Fallon made an appearance, as did Carson Daly, and apparently Sandler himself was there-- though on my end of the press line, he was gone in an instant.
But I did get down to talking to some of the key figures from the movie, including one of the nation's most famous hairdressers-- who isn't named Zohan, of course-- and Sandler's long-time collaborator, Dennis Dugan. They all explained for themselves why on earth they got involved with a movie this silly-- and that was apparently this much fun to make. Also make sure to check out the photo gallery at the bottom, with images of some other faces from Wednesday's premiere.
Dennis Dugan, Director (He also directed I Now Pronounce You Chuck and Larry, Big Daddy, and Happy Gilmore)
So could anyone but Adam Sandler have talked you into a movie about an Israeli Mossad agent turned hairdresser?
Well, nobody but Adam Sandler would have gone there.
When you heard it, did you think it was the stupidest thing you'd ever heard, or did you know it was genius?
Well, we were doing Chuck and Larry, and he said, 'I want you to do the next one, and it's either a Western or the Israeli movie.'
So is a Western going to be next?
No, I don't think so. It's not even in the mix anymore.
And Zohan really has a message to it. Were you really trying to make it heartwarming?
We wanted to make that as true as possible. It's comedy, but we wanted to make it as real as we possibly could.
Were the fight scenes a challenge to shoot?
Yeah. That was really fun. To me, that was the most fun of ahny of it, to sit down and plan that. We just wanted to see what we could do to make everything as different from anything.
I'm not so sure he did all his stunts-- I think Sandler might have had a stunt double.
It was all Adam, I swear.
Nick Swardson, Michael (Zohan's first friend in New York who is horrified when Zohan shacks up with his mom)
You're playing the straight man in this, which is really different from what you've done in the past. You're not an over-the-top character.
I was actually so happy to do that. I love my part in this, because it's really dry, and it's all reactions. It's not over-the-top. It's always refreshing to not have to be crazy, flaming.
So what's the appeal of working with Adam Sandler over and over again?
Well, for me, he's one of my idols. It's a dream working with him. Over the last five or six years he's become one of my best friends. He's a great guy, and a great comedic influence. He's just awesome to have around you.
And you grew up when they were on SNL, right?
Yeah, and I think they're the best cast of SNL ever. Easily. The original cast is great, but when he was on there with Spade and Farley and Chris Rock and Phil Hartman and Mike Myers, they were just comedy giants. All of these people became iconic.
Being on a stand-up tour, do you feel like you have your finger on the pulse of the target audience for this?
I don't know! I don't have a pulse on anything. Just be funny and real, and hopefully people will follow suit.
Do you like being able to get out there and meet fans, as opposed to when you do movies and you're on the set all the time?
People ask me why I still do stand-up, and it seems like the dumbest question. A) I love doing stand-up, but you get to meet-- I love going to cities like St. Lous and Detroit and meeting people, and being one-on-one with fans.
I found you on MySpace--
I love MySpace.
You wrote something on your blog about writing. What are you working on?
I'm writing my first starring movie.
Oh? Details?
It's Napoleon Dynamite meets Boogie Nights is how I describe it. It's Sandler's idea.
Any plot yet?
Yeah, it's about a guy, a really dorky guy like in Iowa, who finds out his really dorky parents used to be huge porn stars back in the 70s. So he gets all excited, decides that's hs calling, so he bgecomes a porn star.
Is this going to be any of the characters we've seen you do before?
No, this is going to be major. It's all me-- I'm going to do 90% of it. It's going to be a big thing for me in that sense. And it's going to be a funny character too. So it'll be good.
Any idea when this is getting started?
I don't know. We're working on the script right now. So hopefully we'll shoot in the fall, and knock on wood be out in the spring.
Can you tell us anything about the new season of Reno 911!?
There's some curveballs. I don't want to give anything away, but we're constantly pushing Terry to do crazy stuff.
Are you going to be in more than one episode?
I think so. I taped like five or six.
Lainie Kazan, Gail (Michael's mom, and Zohan's occasional lover)
Was it hard to get in there and play along with the boys?
Actually, it was hard at first. I had to really kind of get myself situated, so I got to know who was who and what my relatonship was to everybody, and to be really comfortable, so I could just be. Adam Sandler is one of the nicest people to work for, and with. He makes a very fertile ground, and a very generous actor. So is everybody on the set. He hires the same people over and over again, and I think that's why he gets to know them, and he feels comfortable. And you feel comfortable.
You have sex scenes in this.
I did, but it was cut out. It'll be on the DVD.
Was it hard to prep for that? Yeah, I was very nervous.
So have you seen the whole movie yet?
I have. I think it's hilarious. And I think he made an amazing political statement as well. I think it's really important, as silly as the film is, and as over-the-top as it is, he makes a very strong and serious, sincere political statement about the Israelis and the Palestinians, and people in general. It takes love and communication and understanding, and it's so simple.
John Paul DeJoria (DeJoria is a founding member of the Paul Mitchell Salon, and plays "Paul Mitchell" in the movie. Zohan first moves to New York with the express goal of meeting Mr. Paul Mitchell)
When you saw the book that he pulls out in the beginning of the movie, did you cringe, or was it a happy throwback?
Oh, we knew about it before it came out. When he called us he told us he found the book and he wanted us to do it. H ewanted me to play my part in the movie. I'm the John Paul in John Paul Mitchell. I said, of course, it will be my pleasure. I had a blast doing the part. I really was impressed with the hairstyles they came up with. Even though they're from the 1980s, they're exceptional.
So were those all real hairstyles you did?
Oh yeah.
Was there anything he brought up that you just couldn't revisit?
Oh no, it's fabulous. Hairstyles come back after a few years.
Can we call it the Zohan now?
Call it the Zohan. He looks great in it. It's better on him than it was on the original person.
Image 1 of 6
Your Daily Blend of Entertainment News
Staff Writer at CinemaBlend