Iron Man 3 Casting Call Confirms Black Widow's Return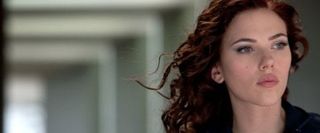 The Avengers is making all the headlines in the Marvel movie universe right now, but not long after that movie opens in early May, production will begin on Iron Man 3, which will continue the adventures of the superhero who started it all (sorry, Hulk, but the profits on the first Iron Man is what brought us here today). iron Man 3 will be shooting largely in North Carolina, and a casting call for extras and stand-ins in the area, picked up by The Daily Blam, managed to confirm a little information about what we can expect from the film. Despite some rumors that she might meet her end in The Avengers, Scarlett Johansson's Black Widow is apparently set to return in Iron Man 3, along with Tony Stark himself of course, along with Pepper Potts and Rhodey.
Before we leap to any conclusions, this casting call is clearly not written by the studio-- if it were, they probably wouldn't mention that Don Cheadle replaced Terrence Howard as Rhodey. But it does seem safe to assume they wouldn't name drop ScarJo in the opening paragraph if she wasn't set to return, and it makes sense to have her back, as a way of nodding to the epic assembly of Avengers in this summer's film while also letting Hawkeye, Captain America, Hulk and Thor wander off and do their own things. The strangest thing here is that there's no mention of Samuel L. Jackson as Nick Fury, a key figure in Iron Man 2 and the guy who is behind all of the adventures Iron Man will experience in The Avengers-- adventures that presumably will at least affect what happens in his third standalone film.
I have to assume Jackson will be in the movie, since he signed a nine-picture deal with Marvel and all, but maybe this means he'll have a smaller role this time around. Then again, this is just a casting announcement written by an outside source, so it's unwise to take any of this as gospel. But when some set photo emerges of Johansson strolling around in North Carolina, just remember that you had the heads up.
Here's some of the casting announcement excerpted below.
Your Daily Blend of Entertainment News
Staff Writer at CinemaBlend