Iron Man 3 Comic Con 2012 Live Blog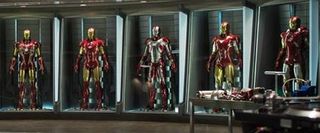 Two years ago Marvel Studios absolutely blew the doors off of Hall H at San Diego Comic Con 2010. In addition to showing off the first footage from both Thor and Captain America: The First Avenger (despite the fact that the latter was only a week into production), The Avengers were assembled for the first time ever and it was announced that Jeremy Renner would play Hawkeye and that Joss Whedon would write and direct the superhero team-up flick (and we all know how great that turned out).
From outward appearances, this year looks smaller by comparison. While Marvel does have two films coming out in 2013 - Iron Man 3 and Thor 2 - the second film won't be in production until later this year, so only the former is on the schedule. If history is any indication, however, we should be in for some real surprises as it's expected that they will be announcing the brand new solo movie that will be heading to theaters in 2014.
I've been embedded in Hall H since 11:00 this morning, but as the final film panel of the day is about to hit I couldn't be more excited. We have no idea what to expect, so follow the live blog below to get up-to-the-minute updates from the Convention Center. And don't forget to come back later for full descriptions of all the footage I see!
6:09: The lights are dropping! It is time! Panel begins with a quick video recapping the entire path to The Avengers. Now it's time for phase two! Marvel Studios President Kevin Feige on stage!
6:09: Feige talks about the future! First we have Shane Black directing Iron Man 3, due out on May 3, 2013. Then we have Alan Taylor's Thor: The Dark World! Brand new title for the sequel! Captain America: The Winter Soldier announced as well!
6:15: Guardians of The Galaxy officially announced with an image of Rocket Raccoon!
6:16: But what about Ant-Man? EDGAR WRIGHT IS ON STAGE!!!
6:17: Wright says he is taking the Terence Malick approach to superhero movies. He and Joe Cornish are still working on it, having done two re-writes in the past couple years.
6:18: The Ant-Man test footage isn't done yet, BUT WE'RE GOING TO SEE IT ANYWAY!
6:20: The footage has Ant-Man in a hallway that's being guarded by two men in front of an elevator. While not finished, it has a great deal of action and also some humor. I will be sure to give you a full, detailed description of the footage after the end of the panel. UPDATE Here's a full recap of the Ant-Man footage!
6:22: But now time for the main event! It's Iron Man 3 time! Robert Downey Jr. enters through the back of Hall H, high fiving fans as he makes his way down to the stage!
6:23: RDJ is, as always, in full Tony Stark mode, with a deep red shirt, sunglasses, goatee and even an Iron Man glove! Footage time!
6:28: THE ARMOR CONNECTS TO TONY AUTOMATICALLY! BEN KINGSLEY REVEALED AS THE MANDARIN! So much amazing stuff. UPDATE: Here is the full recap of the Iron Man 3 footage, as written by our very own Sean O'Connell, who was in Hall H with me!
6:29: Shane Black! Don Cheadle! Jon Favreau on stage!
6:31: Favreau said that he had to run over a bunch of nerds to make it here on time and takes the opportunity to plug Revolution. Don Cheadle then takes the moment to also plug his show House of Lies. Big laughs from the crowd
6:32: Shane Black vocally confirms that Ben Kingsley is The Mandarin!
6:32: Feige says this is only an Iron Man film, separate from The Avengers. Robert Downey Jr. says that they are currently working on shooting yet another after-credits ending for The Avengers.
6:33: Time for fan questions! What storylines might we see in the future? The fan asks for Pepper Potts in the rescue suit. RDJ doesn't understand, but Jon Favreau says that he'll buy the star a copy. Apparently there has been talk about Gwyneth Paltrow getting in a suit and kicking some ass.
6:34: How does RDJ bring Iron Man to life? He says that the first step is to be cast, and a big part of that was Shane Black's Kiss Kiss Bang Bang. They even called Black occasionally during the shooting of Iron Man, even though they couldn't afford him.
6:35: RDJ says that his wife hates when he's playing Tony Stark.
6:36: "We're halfway through – if we don't fuck up the rest it's going to be great" – Shane Black
6:37: Rebecca Hall confirmed as part of the cast as Maya, Guy Pearce, James Badge Dale, Ashley Hamilton all on board.
6:40: RDJ says Favreau in the movie is "like Swingers at 40." Favreau says that now he gets to really just have fun with the part now that he's not directing and gets to play a bit more with Robert. As Executive Producer he feels like a proud grandfather who doesn't have to change the diapers.
6:41: The next question was going to be how does RDJ relate to Tony Stark, but she dropped the question when RDJ made his way in
6:42: Cheadle says it takes 30 minutes for him to get into his suit, RDJ says it only takes him three minutes, Cheadle chocks it up to racism.
6:43: Both RDJ and Cheadle's contracts are up after Iron Man 3 so it will be about "what size Brinks truck they bring [them]"
6:44: Audience member in Iron Man suit says it takes him five minutes to get into the suit. Cheadle promptly stands up from his chair and starts to walk off stage (he came back)
6:45: The next question is about where does Tony go from here? Black says that the issue with making the third movie in a series is hard because you have to touch back but also create something new and make it its own story. Black says we need some simplicity and a return to the myths that drive us, hence why comic book movies are so popular. The secret is "[Robert Downey Jr.] is Tony Stark." Downey Jr.: "So I'm an asshole?" Black: "A rich asshole!"
6:47: Tony will not fall off the wagon in this movie, but Black jokes that because of budget cuts that Tony actually does fall off an actual wagon at the end of the movie.
6:49: Favreau says that Kevin has a really great nose for the right guy for the right gig, and Shane Black is a great choice and brings a really nice perspective, particularly from the writing angle.
6:50: Shane Black gives credit to Drew Pearce, who co-wrote the script. "He's British. Don't hold it against him."
6:51: Fifteen year old girl comes to the mic and it's her birthday. Says that this is the best present she could have. Everyone is now singing happy birthday!
6:52: If you could have an Iron Man suit any color what would it be? RDJ requests a mauve suit.
6:53: Last question of the night: Will we see Bruce Banner in Iron Man 3? Bruce did jump in the car with Tony… but Tony dropped him off at the Port Authority and that he will appear at some other point.
6:54: We're going to watch the footage again!
6:59: And that's a wrap, people! Stay right here for full descriptions of all of the Marvel and Warner Bros. footage coming up here on Cinema Blend!
Assistant Managing Editor
NJ native who calls LA home and lives in a Dreamatorium. A decade-plus CinemaBlend veteran who is endlessly enthusiastic about the career he's dreamt of since seventh grade.
Your Daily Blend of Entertainment News
Thank you for signing up to CinemaBlend. You will receive a verification email shortly.
There was a problem. Please refresh the page and try again.