Iron Man 3 Footage Brings The House Down At Comic Con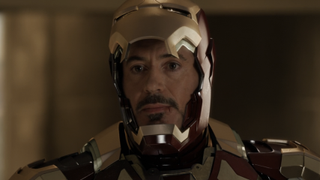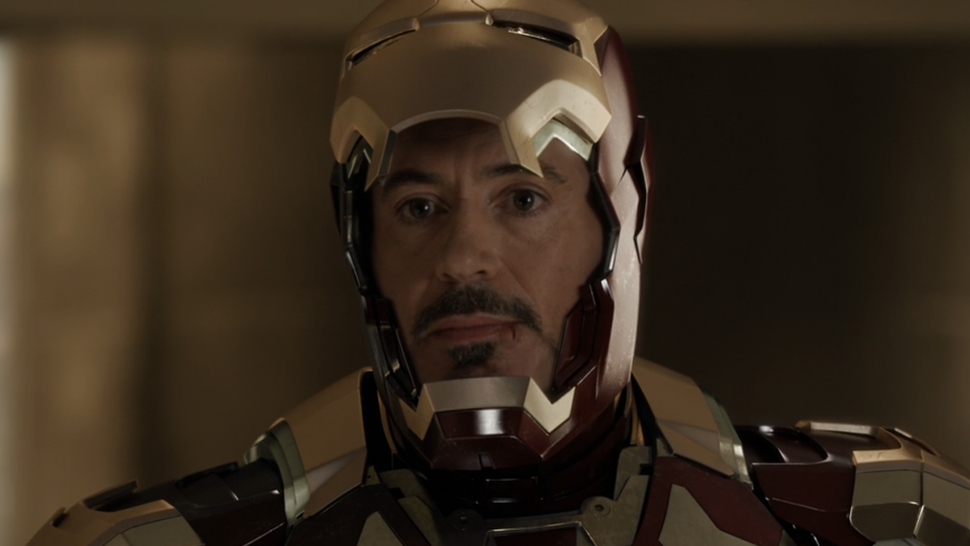 (Image credit: Marvel Studios)
Marvel's Hall H panel was frontloaded with news, from official titles for Thor and Captain America sequels to test footage to Edgar Wright's Ant Man. (Which hasn't been confirmed, but who shoots test footage for a movie they aren't going to do?) Before the audience was able to catch its breath, the panel transitioned into the reason most people camped out outside the San Diego Convention Center for days to get in.
Robert Downey Jr. The consummate showman. The self-proclaimed "King of Comic Con." And he proved it once again with rock-and-roll footage from the upcoming Iron Man 3, directed by Shane Black. RDJ made sure his part of the panel kicked right in with original footage. Here's what we saw:
Tony Stark (Downey Jr.) is in his technical laboratory. He asks Jarvis to cue up some seasonal music, and we get Run DMC's Christmas in Hollis (confirming yet abother Shane Black movie set at Christmas time). He's suiting up, and he tries to summon his new armor … with his body. It doesn't work at first. But then a glove flies over and attaches to Stark's hand. He gradually calls more pieces, but they come flying at him at a rapid clip. At one point, the back plate hits him so hard that he almost falls over, but uses his gloves to right the ship. The last piece to fall into place is his face mask. To get it on properly, Stark has to fly and flip over, lands in the classic three-point Iron Man pose.
The audience goes crazy.
The next scene is Stark talking with Happy (Jon Favreau), who gets hell from Tony for quitting his job as bodyguard (apparently he was getting too much shit from friends about being the protector of Iron Man). Happy mentions that his grandmother lives in New York City, and jumped out of a two-story window when she saw a giant robotic snake coming out of the sky. So there are a lot of references to The Avengers. Happy even busts Starks chops for being one of "the Super Friends." Funny stuff.
That's the longest full scene. The rest is a montage of footage showing Pepper Potts (Gwyneth Paltrow) and Rhodey (Don Cheadle). In one of the quick-cut shots, Pepper is picking up a banged-up Iron Man mask from a pile of rubble. We see newcomer Guy Pearce briefly, dressed in a suit, but it's his powerful voice-over that damn near steals the footage. "Ladies, children," Pearce says, "Some people call me a terrorist. I consider myself a teacher. Lesson number one: there is no such thing as heroes." We then see a helicopter flying outside of Stark's Malibu mansion, firing missiles. Pepper and Tony are blown backwards, as the mansion starts tumbling into the Pacific Ocean. The whole house is destroyed. Iron Man suits are blowing up in their pods. And Tony, now in a gold and red suit, is pulled with the wreckage into the sea.
We get the title treatment. Iron Man 3. The screen fades to black. Then we're back.
Close up of hands, with 10 rings. We pull back a little, and someone's stroking a grey beard. From behind, we get a shot of this character cocking a pistol. And then it pulls back even further to give us our first shot of a bearded Sir Ben Kingsley in character as The Mandarin.
Boom.
Black confirmed they were halfway finished with filming on Iron Man 3. The footage looked fantastic. The movie opens on May 3, 2013.
Your Daily Blend of Entertainment News
Sean O'Connell is a journalist and CinemaBlend's Managing Editor. He's frequently found on Twitter at @Sean_OConnell. ReelBlend cohost. A movie junkie who's Infatuated with comic-book films. Helped get the Snyder Cut released, then wrote a book about it.