Iron Man, Toy Story 3 And Lots More Featured At Toy Fair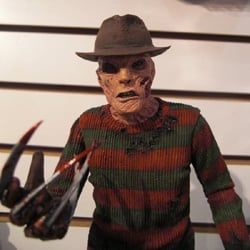 Children aren't allowed into the American International Toy Fair. This is most likely because they don't want kids grabbing at the toys, running around the aisles, or breaking anything, but I've come up with another reason: I'm fairly certain that it would cause their head to explode.
Held every year at the Jacob Javits center in New York, the expo is largely used as a way for small businesses to get a leg up in the toy industry, but the presence of giant toy companies means there's plenty of amazing stuff for those living in film world (like us!). Action figures, board games, puzzles, banks, and all kinds of toys were displayed with the likenesses of Woody, Edward, Tony and Harry, just to bring some happiness into the lives of children add revenue beyond box office totals.
Not surprisingly, the best-represented film was the upcoming Toy Story 3, launching multiple new toy lines like Lego sets (three of which you can see below), new Mr. Potato Heads that can dress up as Woody and Buzz, and about 20 different incarnations of Slinky Dog (looks like Poof Products still holds the rights, and damn if they aren't going to use them). Right on its heels and also featured in the Disney tent was Alice in Wonderland, which, for a movie NOT about toys, had a plethora of merchandise as well as a man walking around dressed as the Mad Hatter (which is SO MUCH more terrifying in person). Also capturing a market share was Harry Potter, and, of course, Twilight, which will see an expansion of its "Scene It" game to cover the first three movies, a new board game to correspond with Eclipse's release in June and plenty of other stuff that Twihards will be more than happy to cover their rooms with.
The coolest stuff (coming from a fanboy, anyway) were the highly-detailed action figures for some of this year's biggest releases. Kotobukiya made the Iron Man statues of both the Mark IV and Mark VI (which you can see below), and included built in LED's for the hands, chest and base. NECA brought the biggest guns with their models for A Nightmare on Elm Street, Clash of the Titans, and Jonah Hex. Freddy Krueger got a model for both before and after being set on fire (don't know why he has a three-prong gardening tool in his hand, but perhaps that will be explained come movie time). Before I got closer to it, I would have said that they did a fantastic job on Sam Worthington's Clash of the Titans character Perseus, but upon closer inspection, it looked like a badly formed claymation figure from the original. The Jonah Hex set-up gives us what I think is our first look at John Malkovich's character, Quentin Turnbull, who will be the villain in the film. Last were the Kick-Ass models made by Mezco, featuring both the title character and Hit Girl. What you can't see is the model of The Green Hornet that was located directly below them, but I wasn't allowed to take pictures of that one. Certainly not a disappointment.
I could go on for hours telling you every detail from the event, but you'd probably stop reading half-way through anyway. Instead, check out the image gallery below to see all the cool stuff that I got to see.