It Follows Trailer: This Movie Looks Terrifying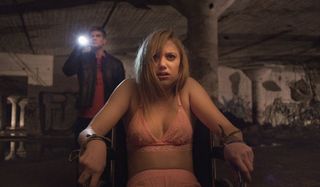 Sex, while being perceived on the whole as a satisfying experience, can also be terrifying. Accidental pregnancy, contracting an STD, or even just a standard walk of shame can be pretty scary stuff. After watching the It Follows trailer below, you're going to view each of those scenarios as a cakewalk, however.
Icon Film Distribution recently shared this UK trailer for the film that ranked itself among last year's indie horror hits. It Follows tells the story of Jay, a girl who has romanticized the idea of sex, and ends up catching something from a chance encounter. Trust me, when I say something, I mean "some thing." That something is a mysterious life force that's been passed down from partner to partner. All it does, all it needs or wants to do, is find its current victim and kill them. Now it's up to Jay to either find someone to pass the curse onto, or to let herself get taken by it - in hopes that she can break the chain once and for all.
It Follows already sounds like something you'd find in one of the V/H/S anthologies, or at the very least a mash-up of Contracted, Teeth, and the graphic novel Black Hole. With a retro vibe that permeates the trailer's look and sound, It Follows is another one of those horror films that looks to relive the glory days of the 1980's horror boom. Much like You're Next or The House Of The Devil, it looks like the film isn't trying to overdo it on borrowed style, while still paying proper homage.
While It Follows is set to finally hit our shores in March, it spent most of the second half of 2014 making its way through the festival circuit. It's gotten a fair amount of praise from the critics that have seen it, and the atmosphere the film sets is common selling point among those praised. With a lighting scheme that recalls memories of a David Fincher film, It Follows is the closest thing we'll see to Fincher's proposed, and still unfulfilled, adaptation of the aforementioned Black Hole.
Leave it to a movie like It Follows to make something as vulnerable and a fun as sex into something more sinister and dangerous. As with any good horror film, it looks to take something we're used to by now and translate it into the most deadly thing in the world. Only this time, the source isn't as easily as identified, and therefore not as easily destroyed by man. Part boogie man, part cautionary tale, It Follows looks like a movie that could start out low and slow, but eventually capture the genre box office in its wide, off-season release.
It Follows is slated for release on February 27th in the UK and March 27th in the US.
Senior Movies Contributor
CinemaBlend's James Bond (expert). Also versed in Large Scale Aggressors, time travel, and Guillermo del Toro. He fights for The User.
Your Daily Blend of Entertainment News
Thank you for signing up to CinemaBlend. You will receive a verification email shortly.
There was a problem. Please refresh the page and try again.