J.J. Abrams' Biggest Issue With Making Star Trek Into Darkness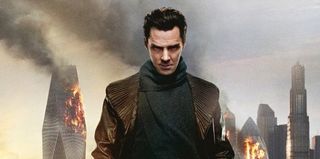 Star Trek Into Darkness was not terribly well received by fans of the franchise, as shortly after it was released, it was voted the worst Star Trek movie at a fan convention (below even Galaxy Quest, which isn't even an actual Star Trek movie). There are definitely supporters, but there are a number of problems, and even director J.J. Abrams had one big issue making the movie.
Building up to the massively anticipated Star Wars: The Force Awakens, Abrams sat down with Wired for an extensive interview, where he revealed:
Starting to film a movie with a story that's not entirely finished isn't exactly uncommon in Hollywood. It's fairly standard that the writing process continues into production, but it doesn't sound like Abrams was particularly confident of the base of the story, and beginning on shaky ground is never easy.
Star Trek Into Darkness catches a lot of flak from die hard Star Trek fans (then again, so does Abrams' 2009 reboot). There are still a lot of hurt feelings over the whole "Benedict Cumberbatch is not Khan" fiasco, and it just sat wrong with many. Still, for as much vitriol as gets hurled its way, it has a surprisingly high score on review aggregator Rotten Tomatoes, with an 87% Fresh rating from critics, and a 90% approval rating from audience members. You may also recall that it earned $467 million dollars at the box office, more than $80 million ahead of its predecessor.
Still, for all of that apparent success, it is, and is likely going to be, remembered as something of a misstep. We'll see what happens with the third installment, Star Trek Beyond, which comes out next year. Since the last film, things have undergone a massive overhaul. J.J. Abrams has moved on to Star Wars, and Roberto Orci, who produced, worked on the script for the earlier films, and was going to make his directorial debut, was ousted after disagreements with the studio. Fast & Furious helmer Justin Lin took over the reigns, and Simon Pegg and Doug Jung were tapped to handle the script.
What little we know of the plot finds the crew of the Enterprise in the middle of their five-year mission into deep space, which fans are excited for, as the last two were largely Earth-centric. With Idris Elba set to play the main villain, it could be a damn good time, and if nothing else, they're at least trying to change things up.
Star Trek Beyond hits theaters July 22, 2016, and Star Wars: The Force Awakens opens everywhere December 18.
Your Daily Blend of Entertainment News