Boldly Laugh Like No One Has Laughed Before With This Star Trek Into Darkness Blooper Reel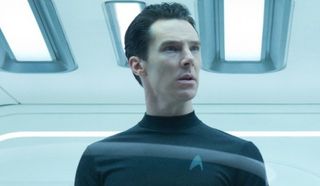 When one thinks of J.J. Abrams' Star Trek films, "hilarious hijinks" is probably not the first thing that springs to mind. Yet, that's what we have to share today in this amusing clip of bloopers and gag reel material from the filmmaker's second foray into a place where "no man has gone before", Star Trek Into Darkness.
Abrams' second, and presumably final, film in the Star Trek universe was divisive amongst hardcore Trekkies, who felt it was too action-oriented and Star Wars-esque to be a film in the revered franchise. It has a lighthearted tone, but it's rarely out and out funny – but that doesn't mean the cast and crew weren't up for some on-set shenanigans during the lengthy and demanding filming process. This new video, posted over at IGN, proves that everyone was down for a few laughs during the shoot.
The clip is an excerpt from a longer featurette set to appear on the upcoming Star Trek: The Compendium box set (opens in new tab). The gag reel is only a minute long, but that's plenty of time to see Chris Pine's Captain Kirk flub multiple lines, Benedict Cumberbatch unleash his inner critic, and Zachary Quinto, Zoe Saldana, Alice Eve, and Simon Pegg make us laugh. Even Abrams gets in on the action – without any over the top lens flare.
The new box set features four discs in all, and both of Abrams' voyages aboard the Enterprise. While the 2009 movie's discs and extras are identical to what's already been on the market for years (it's sad they couldn't come up with even a single new piece of supplemental material for the box set…), Into Darkness actually crams in lots of goodies on its two discs.
The standout feature is the inclusion of Star Trek Into Darkness' IMAX footage, which is integrated seamlessly into the main film. The sizing of the frame apparently changes during these larger-scaled sequences, but it's going to be nice to have them in a home media format.
The rest of the package comes with both recycled extras from the original Blu-ray release, along with new features like the gag reel. The full gag reel runs almost six minutes in total, so there's clearly a lot more laughs to be had for those of us who plunk down the $45 retail price for the set. That's on top of all the other goodies that come in the collection…
Fans looking to explore "the final frontier" will be able to add Star Trek: The Compendium to their Blu-ray library on Tuesday, September 9.
Your Daily Blend of Entertainment News