Leaked Star Trek Set Photos Feature Really, Really Weird Aliens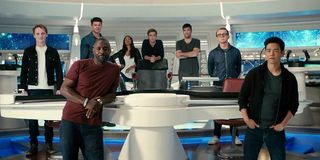 Director Justin Lin has been busy filming Star Trek Beyond, and the cast and crew announced not too long ago that they would set up shop in Dubai for scenes. Chris Pine (Kirk), Zachary Quinto (Spock), Anton Yelchin (Chekov), Simon Pegg (Scotty), Karl Urban (Bones), and Idris Elba (role unknown) made a show of it during a press conference, but now new photos and video have leaked revealing that they are not alone.
Many filmmakers are learning that with movie shoots in full view of the public come those pesky paparazzi — and in the Internet age, anyone carrying a smartphone with camera and social media capabilities can be one. A few bystanders matching this description have uploaded snapshots and video of some of the extras and actors all costumed as new aliens in the film. One of the videos in question, from Instagrammer @hudaarif86, shows a procession of extras making their way onto the set.
Next up are two photos from user @carson1878, who apparently snapped them from his office window. This scene, which also includes aliens, looks a lot like the setting around the Star Fleet Academy and the adjoining city.
Finally, from the @startrekbrasil Instagram account comes two suited up aliens that are giving off a very "Eric Stoltz in Mask" vibe.
We can add these new looks to our collection of leaks, which includes video and photos from one of the film's previous filming locations. ScreenCrush's reveal showed Kirk and his crew exiting a spacecraft with a white-skinned alien, reportedly played by Kingsman: The Secret Service star Sofia Boutella.
There's still a lot we don't know about the plot of Star Trek Beyond, though there have been reports of the film taking place amid the Enterprise's voyage into deep space. Idris Elba is also rumored to play a Klingon. While that remains unconfirmed, Simon Pegg made an interesting reveal during the special fan event at Madison Square Garden for The Walking Dead season 6 premiere. Speaking through a pre-recorded video questionnaire to the cast on stage, the actor remarked that if they thought fighting zombies was hard, try fighting a dead Klingon. The alien race has been referenced in the previous two Star Trek films, and they even made an appearance in Into Darkness. Where are those leaked set photos?
Star Trek Beyond also features Zoe Saldana as Uhura and John Cho as Sulu. The third installment of the new series is scheduled for theaters on July 22, 2016.
Your Daily Blend of Entertainment News
Thank you for signing up to CinemaBlend. You will receive a verification email shortly.
There was a problem. Please refresh the page and try again.