J.K. Simmons Trying His Hand At A Buddy Comedy With Emile Hirsch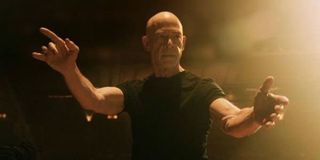 The roles just keeping coming for actor J.K. Simmons! The newly crowned Oscar winner has signed on to co-star alongside Emile Hirsch in a new buddy comedy set to begin filming this summer.
According to The Hollywood Reporter, Whiplash actor J.K. Simmons has recently signed on to a new project, a buddy comedy with actor Emile Hirsch, aptly called The Runaround. The Runaround is about a workaholic father—played by Simmons—who decides to go visit his daughter while on a layover in Los Angeles, only to discover that she has disappeared. Enter Emile Hirsch, Simmons' daughter's boyfriend, who Simmons then teams up with to find his missing daughter over the course of one night. This should be good, right? Apparently, the co-founders and partners of The Solution Entertainment Group, who is handling international rights for the film, agree. Lisa Wilson and Myles Nestel had the following to say about the casting for the upcoming comedy:
The Runaround won't be Whiplash star's first gaunt into the comedy genre. Though many of his most noted performances were indeed dramatic in nature, J.K. Simmons has also been successful with comedy, in the past. The former Law & Order actor has done guest spots on The Simpsons, loud mouthed Daily Bugle Editor-in-Chief J. Jonah Jameson in the Sam Raimi's Spider-Man trilogy and most recently, he starred in the short-lived NBC comedy Growing up Fisher, a situational comedy about family life in which Simmons played a blind father and lawyer. And, who can forget those Farmers Insurance commercials?
It is, however, the Oscar winners' dramatic roles that have earned him the majority of his awards and nominations, namely his role on the police procedural drama The Closer, starring Kyra Sedgewick. Clearly, the Whiplash actor, who is quite accomplished in both film and television, isn't taking any time off to enjoy his recent Oscar and Golden Globe wins for his performance in the drama Whiplash, as this is the second new project in recent weeks that the actor has been attached to. Last week, it was announced that Simmons will be starring in a new Starz series called Counterpart. In addition, the actor will be starring in the upcoming Terminator: Genisys film, and The Accountant, also starring Ben Affleck and Anna Kendrick. Simmons is currently filming The Meddler with Susan Sarandon and Rose Byrne.
The Runaround is set to begin filming in July. In the meantime, Terminator: Genisys hit theaters on June 25, 2015.
Your Daily Blend of Entertainment News