J.K. Simmons Is Returning To TV, Get The Strange Details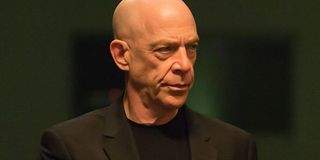 J.K. Simmons is coming back to TV and it just might be his best role yet! The Best Supporting Actor Oscar winner is set to star in a new series for cable network Starz, called Counterpart. And from what we know about the project thus far, it is quite a strange and interesting role for the revered actor, but it surely won't disappoint.
Counterpart is the story of a low level paper-pusher named Howard Silk (J.K. Simmons) who is filled with regret after years of perpetuating bureaucracy at a UN Agency, at least until he discovers a huge secret that the agency is keeping. Namely a way to cross over to a parallel dimension. Howard then finds - you guessed it - his counterpart on the other side, Prime, and the two begin to explore themes such as "identity, idealism, what ifs and lost love." It sounds like this supernatural thriller will have quite a bit going for it, which is a good sign for the show and audiences looking to potentially fill that void left from Fringe.
According to Deadline, Counterpart was created and written by Justin Marks, whom you may recall is the writer penning the new Disney live-action Jungle Book movie, set for release in 2016. The first two episodes will be directed by Imitation Game director Morten Tyldum. The size of the series order has yet to be determined, although there is speculation that the "espionage thriller with a metaphysical twist" is expected to be picked up for an initial two seasons, much like what happened with the comedy Blunt Talk, starring Sir Patrick Stewart. This is the third MRC project to get greenlit by Starz, further cementing an alliance between the two companies.
This will mark the Oscar winner's first official return to television since last year's short-lived comedy Growing Up Fisher. Since then, Simmons has kept pretty busy, shifting focus over to motion pictures, like Whiplash in 2014 and the upcoming Terminator Genisys, along with plenty of voice work in The Legend of Korra and in the animated Marvel series Ultimate Spider-Man, Hulk and the Agents of S.M.A.S.H, and Avengers Assemble. Then, of course, there are those hilarious Farmers Insurance commercials that seem to pop up everywhere.
Simmons, Marks and Tyldum are all executive producers on Counterpart, along with Jordon Horowitz and Gary Gilbert of Gilbert Films and Keith Redmon and Bard Dorros of Anonymous Content. Gilbert Films originally developed the series, and then sold the project to MRC who then brought Anonymous Content on board. We'll keep you posted on if and when Starz officially picks Counterpart up for series.
Your Daily Blend of Entertainment News
Your Daily Blend of Entertainment News
Thank you for signing up to CinemaBlend. You will receive a verification email shortly.
There was a problem. Please refresh the page and try again.