Jack Black Gets Back in Bed With Panda Scribes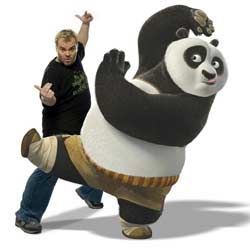 In an untitled movie that sounds much more hilarious than Kung Fu Panda ever did, Jack Black will play a man who wakes up on the beach in Cuba with stress induced memory loss. Because he can't remember who he is, he assumes he's a super spy.
Writers Jonathan Aibel and Glenn Berger created Kung Fu Panda which turned out to be a surprise cash cow... er bear... this past summer, grossing over $215 mil domestically and $405 internationally. Aibel tells HR: "For our next live-action project, we knew we wanted to work with either a panda or Jack. Luckily, Endeavor repped Jack. We also figured that if we could write for Jack as a panda, we could write for him as a human." I'm sure that's true.
Black's character is, in real life, and needless to say, a schlub. I'm sure he will be truly disappointed. Black produces with his production team Electric Dynamite.
Your Daily Blend of Entertainment News
Thank you for signing up to CinemaBlend. You will receive a verification email shortly.
There was a problem. Please refresh the page and try again.