Kung Fu Panda 3 Getting Out Of The Way Of Batman v. Superman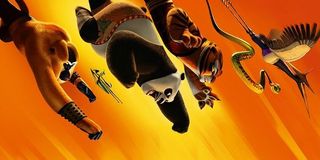 Is it just us, or is the box office crowded for the next couple of years? With a glut of superhero films, as well as other properties such as Star Wars, studios are planning extended universe runs with multiple key release windows in the future already secured. It's gotten to the point where everyone without some sort of extended game plan is destined to be left in the dust at square one. Case in point is Dreamworks Animation's Kung Fu Panda 3, which is preparing to move its release date once more in the hopes of avoiding huge competition from Zack Snyder's Batman v Superman: Dawn of Justice.
The Wrap has announced that the new new new Kung Fu Panda 3 release date has been bumped up to January 29, 2016, instead of the recently staked March 18 - almost two months later. You might remember that the Jack Black-starring sequel actually first moved from its previous release date, December 23, 2015 back to its original release date of March 18, 2016, so as to avoid Star Wars: The Force Awakens. The new move has been inspired by a similar fear of market competition, thanks to the aforementioned Batman v. Superman: Dawn Of Justice being released on March 25, 2016. Funny story though: Warner Bros' would be box office juggernaut also decided to move its release date up to an earlier window, after once playing chicken with the film it formerly shared a release date with, Captain America: Civil War.
What's surprising about this second move isn't the fact that it's happening, but the fact that Kung Fu Panda 3 could have avoided it completely if they'd gone a couple steps further in their thinking. After all, Batman v. Superman: Dawn Of Justice was already locked in for the March date before Kung Fu Panda 3 decided to make its own move. With that date existing previously, and January already being a dead month to begin with, Dreamworks Animation could have just picked the January date in the first place. Kung Fu Panda 3 would only have to bow slightly later than originally planned, and everyone could have gone home happy.
Perhaps the greatest reason a January release date has always made sense for Kung Fu Panda 3 is the fact that January is normally an off-peak month that uncertain prospects go to either make a fortune or lose without too much of a thud. Two such films, Ride Along and The Nut Job, both rode their way to glory in January 2014, and wouldn't you know it – they have sequels staked out for January 2016! In fact, The Nut Job 2 is opening on January 15... just a week before Kung Fu Panda 3 will now make its debut. Dreamworks Animation execs must be facepalming themselves right about now, but they might not have reason to.
Considering Kung Fu Panda topped its opening weekend in 2008 with around $60 million, and Kung Fu Panda 2 only lost to The Hangover Part II in its first frame with a $48 million debut, the franchise could be on track for a healthy debut even if it dropped another $12 million for Kung Fu Panda 3's release date. Of course, those figures depend on a static drop, as well as The Nut Job 2 not besting the original film's $19 million opening. Considering its market familiarity, Kung Fu Panda 3 looks to have the edge... so long as the overlap between the audiences of Ride Along 2 and The Nut Job 2 don't spell a more powerful second weekend for the latter film.
All we do know is the following: Kung Fu Panda 3, for the moment, is opening on January 29, 2016. Everything else is subject to change/confusion.
Senior Movies Contributor
CinemaBlend's James Bond (expert). Also versed in Large Scale Aggressors, time travel, and Guillermo del Toro. He fights for The User.
Your Daily Blend of Entertainment News
Thank you for signing up to CinemaBlend. You will receive a verification email shortly.
There was a problem. Please refresh the page and try again.