Jack Reacher Helmer To Direct Star Blazers Movie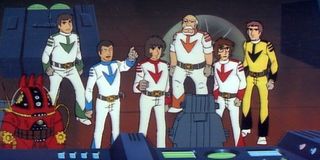 Under the direction of Chris McQuarrie the 1970s anime series Star Blazers will be spun into a live-action feature film. Deadline reports Skydance Productions has brought McQuarrie on board to write and helm the adaptation. Plus, he'll produce the picture alongside World War Z executive producers David Ellison and Dana Goldberg.
Star Blazers was the American adaptation of a Japanese animated series called Space Battleship Yamata. Its popularity has been credited with the paving the way for future anime translation in the States. The series began with a far off planet attacking Earth with nuclear bombs that force all survivors underground. If the radiation cannot be cleared, the human race will go extinct in a year's time. But help is unexpectedly offered from planet Iscandar's Queen Sasha, who has a Cosmo DNA machine that can rid the Earth of this deadly radiation. But she can't deliver it, so a scrappy crew headed by Captain Avatar is put together to trek to Iscandar via the spaceship Argo to save the world.
Hot off the successes of World War Z, Star Trek Into Darkness, and G.I. Joe: Retaliation, Skydance is looking to groom this adaptation in the first of a film series. With the television show having run for three seasons in the US, there's plenty of plotlines from which to pull. Of course, that would all depend on the success of this first film. So this could-be franchise rests on the shaky shoulder of its writer-director.
McQuarrie has had a curious career in Hollywood so far. As a screenwriter, he made his mark in 1995 with the sinister crime thriller The Usual Suspects, which earned him an Academy Award for Best Original Screenplay. His reputation grew with another Bryan Singer-directed drama Valkyrie, a modest box office hit fronted by Tom Cruise. But McQuarrie also lent his talents to the critically despised Johnny Depp/Angelina Jolie vehicle The Tourist, which inexplicably earned 3 Golden Globe nominations as well as well as an unbelievable $237 million worldwide.
As a writer-director he has so far churned out the bizarre 2000 crime drama The Way of the Gun as well as another Cruise vehicle, Jack Reacher, in 2012. The former was not only a $21 million flop--pulling in just $13 mil globally--but also a critical dud. Adapted from the lauded Lee Child's novel called One Shot and boasting an A-list leading man, Jack Reacher fared far better. The $60 million thriller made $218 million worldwide, and won general critical praise.
McQuarrie is a wild card, he has a history with Skydance Productions. For one thing, they were the production company behind Jack Reacher, and clearly were happy with the work McQuarrie did there. And for another, McQuarrie was hired to adapt Star Blazers into a screenplay back in 2011. It seems that whatever he came up with was impressive enough that Skydance has given him the reins to make it as he sees fit. As to how this will all turn will all turn out, we'll just have to wait and see. No shooting schedule has yet been announced.
You can watch the Star Blazers episode "The Battle At Pluto" below:
Staff writer at CinemaBlend.
Your Daily Blend of Entertainment News
Thank you for signing up to CinemaBlend. You will receive a verification email shortly.
There was a problem. Please refresh the page and try again.