Jackie Chan, Seann William Scott Doing A Renny Harlin Film Means This Must Be 1999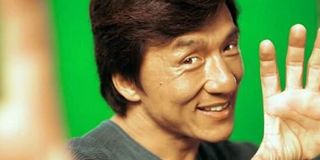 Finnish director Renny Harlin was once a heavy hitter in Hollywood with hits like Die Hard 2: Die Harder and Cliffhanger to his name. Then came the one-two punch of Cutthroat Island and The Long Kiss Goodnight, action vehicles for his then-wife Geena Davis that both flopped hard at the box office despite being pretty damn fun. Since then, Harlin has been fighting hard with a wide array of attempts to win back his old reputation. At long last, he might have the project that can get him there.
THR reports Renny Harlin is in negotiations to direct Skiptrace, a Jackie Chan vehicle that will co-star Seann William Scott. Should he sign on, he'd be replacing ParaNorman director Sam Fell, who was set to make his first live-action feature here. Produced by Chinese companies Talent International Film Co. and Dasym Entertainment, it's not a Hollywood production, but with a cast that includes these two plus Chinese star Fan Bingbing, this action-comedy seems instantly primed for big numbers in China, a feat that appeals to Hollywood big time. The film's distribution rights are now up for sale at the Cannes Film Market.
Skiptrace is based on an idea by Jackie Chan, and its screenplay currently boasts credits by BenDavid Grabinski (Cost of Living), Jay Longino (Bachelore Party 2: The Last Temptation), Alessandro Tanaka and Brian Gatewood (The Sitter). Chan will star as Benny Black, a good cop whose lovely niece (Fan Bingbing) runs afoul of a crime syndicated Benny has long been looking to bring down. But to rescue her, Benny must turn to the only man who can track her down, a fast-talking American gambler (Seann William Scott). Together the two will travel to Hong Kong and take it by storm.
This formula of comedic star + Jackie Chan has worked well before. Aside from Kung Fu Panda 1 & 2, Chan's highest-grossing American efforts where Rush Hour 1, 2 and 3, in which he teamed with loudmouth comedian Chris Tucker, and Shanghai Noon/Shanghai Knights, which paired him with affable goofball Owen Wilson. The English-language Skiptrace is clearly trying to recapture this level of success in America, while Fan Bingbing's inclusion will help its box office appeal in China. On paper, it's primed for success in the U.S. and China, but can Harlin make it happen?
Earlier this year he was poised for a potential comeback with the sword and sandals actioner The Legend of Hercules. But the Kellan Lutz-fronted vehicle bit it at the box office bringing in just $18 million domestic on a $70 mil production, plus a cringe-worthy 3% on Rotten Tomatoes critic meter. Frankly, with a failure that flagrant, it's surprising he's being considered for Skiptrace. But if he nails it, it could mean a renaissance not just for him, but also for Jackie Chan, who has ceaselessly been churning out movies, but Stateside has been relegated to kids' movies like The Spy Next Door and The Karate Kid.
Skiptrace is set to roll into production this August.
Your Daily Blend of Entertainment News
Staff writer at CinemaBlend.