Johnny Depp's Transcendence Will Be In 3D, But Only In China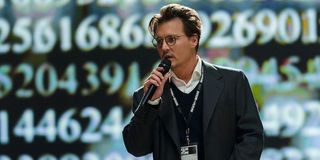 With a population of an estimated 1.35 billion people and a growing demand for American movies, China is evolving as a hotly sought venue for Hollywood blockbusters. We've seen a number of ways studios are courting the Chinese government and moviegoers, but the marketing maneuver involving Transcendence could earn the ire of the American movie lover.
THR reports Transcendence, a sci-fi drama starring Johnny Depp, will be getting a 3D and Imax 3D release that will only be shown in China. That's right, no 3D option will hit Stateside.
The announcement was made by the Beijing-based studio DMG, which is distributing the film in China as well as handling Transcendence's marketing campaign there. This suggests that the 3D will be a post-conversion with a bill footed by DMG, which would explain why the US will only have 2D screenings of Transcendence. Deadline calls this the beginning of a growing trend, as the recent RoboCop reboot was also given an exclusive post-converted 3D makeover for its China debut.
Another surprising element of Transcendence release is that it will open in the U.S. and China simultaneously on April 18th. Typically, China gets American movies several weeks after they have opened Stateside. The lag causes a noticeable drop in ticket sales because of a high level of movie piracy in the interim. Conversely, Iron Man 3's special Chinese edition--a co-production of Disney and DMG--opened ahead of its US release. This strategy earned $125 million, making it the highest grossing American movie in China last year. Simply put: Transcendence's day and date release coupled with the 3D and Imax 3D option mean the film is poised to do serious business in China.
Over the past several years, the demand to appeal to the Chinese market had made China a major influence in the making of Hollywood blockbusters. As referenced above, Iron Man 3's filmmakers offered a wildly different cut of the feature that included Chinese stars like Wang Xueqi and Fan Bingbing. From there, Bingbing was added to the cast of X-Men: Days of Future Past, a move that will assure better play for the film in China. Then Chinese censorship offers other kinds revisions, like chopping out 25% of Cloud Atlas. The very threat of offending these censors spurred Brad Pitt's zombie apocalypse epic World War Z to make script changes that wouldn't make the nation look responsible for the world-ravaging epidemic. And with issues over revenue having been resolved, this trend of customizing releases for China shows no sign of stopping.
This poll is no longer available.
Transcendence opens April 18th.
Staff writer at CinemaBlend.
Your Daily Blend of Entertainment News
Thank you for signing up to CinemaBlend. You will receive a verification email shortly.
There was a problem. Please refresh the page and try again.