James Franco Denounces Spring Breakers 2, Calls It A 'Poison Ship'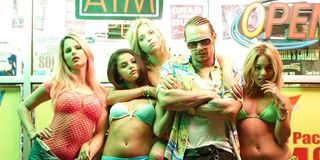 Spring Breakers isn't exactly the most sequel-ready concept, but that isn't stopping the folks at Wild Bunch from jumpstarting the earlier film and stretching it into a franchise. Spring Breakers 2 is on its way, courtesy of director Jonas Akerlund and acclaimed writer Irvine Welsh, which is a solid pedigree for a sequel that doesn't make a ton of sense. But that's not fooling James Franco, who brilliantly played Alien in the original Spring Breakers and who has used Spring Breakers: The Second Coming as an opportunity to be his usual outspoken self.
Franco addressed the follow-up on his Instagram, a sentence that would have absolutely made no sense fifteen years ago when Franco was on Freaks And Geeks. Technology, man. He says,
There seems to be two sides to this. One, yes, Harmony Korine's Spring Breakers was a hallucinatory movie, a unique experience that registered strong love-it-or-hate-it responses. To just duplicate it would be obnoxious and miss the point entirely. Clearly, this is a cash-in, down to the hiring of Akerlund, who is sort of a cut-rate Korine, and exactly the sort of guy you'd hire to mimic Korine.
On another, calling Spring Breakers 2 a "poison ship" is pretty harsh, Franco. Do we really think boycotting Spring Breakers: The Second Coming is about "preserving artistic integrity?" All due respect, James Franco, jack of all trades, but a cheapo cash-in sequel isn't exactly denigrating Korine's work (he's probably tickled by it actually). And a lot of good people will work very hard on this "poison ship" in the makeup department, the set design, even the cinematographer.
Never mind the fact that Franco is tossing Akerlund and Welsh under the bus, two experienced, skills artists who have proven themselves in the past. Akerlund's aesthetic hovers between challenging and challenged, but he's made a number of really unique and peculiar films. He's not exactly Shawn Levy. And Welsh is the writer of Trainspotting and Filth, a novelist who isn't some fly-by-night film school idiot looking for a chance to repeat his favorite bits from a movie he misunderstood. Actually, if this duo was unleashed on an unapproved Taxi Driver sequel, that would be fun to watch!
Let it go, James. It's Hollywood. It's Spring Breakers 2.
Your Daily Blend of Entertainment News
Thank you for signing up to CinemaBlend. You will receive a verification email shortly.
There was a problem. Please refresh the page and try again.