Jason Statham Wants You To Think He's Not A Villain In Fast & Furious 7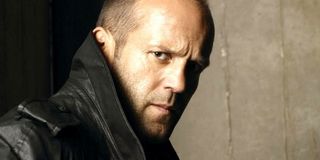 Is it still a spoiler to talk about the role that Jason Statham will be playing in a big sequel shooting this summer? We hope not, because obviously we're going to talk about it.
HERE'S YOUR LAST CHANCE TO BACK OUT
The final moments of Fast & Furious 6-- still going strong as a massive summer hit-- came with the surprise that some of us were expecting, looping back to the end of Fast & The Furious: Tokyo Drift and revealing Statham as the mysterious driver who killed the lovable Han. Rumor had it that Statham was the brother of Luke Evans's villain character, and Statham definitely seemed to be out for revenge, though it's unclear how true that brotherly relationship will wind up being.
Production on Fast & Furious 7 begins this summer, with James Wan stepping behind the camera, and as Statham makes the publicity rounds for his VOD thriller Redemption, he's revealing a bit about what we can expect from him in Fast 7. Namely… he might not be a bad guy after all? See if you can read between the lines of what he told Entertainment Weekly:
As you can probably tell, Statham has bought into the notion that the slightest detail about an anticipated movie amounts to a spoiler, and given the fact that his appearance in Fast & Furious 6 made its way online months before the film was released, I suppose you can't blame him. But the Fast films are not exactly known for their narrative complexity, and in general when someone shoots on of our heroes, he's going to wind up being the bad guy. Save some unexpected twist, like the way The Rock's Hobbs went from stuffed-shirt FBI opponent to a co-conspirator, Statham is almost certainly the villain of Fast & Furious 7. But that doesn't mean he can't have some fun teasing us in the meantime.
He also talked a bit about his affection for the franchise, which makes sense-- as one of the world's most famous tough guys, you have to imagine Statham enjoys watching some cars blow up on screen even when he's not driving them:
With the new movie coming so quickly after the last one, we don't really know which cast members will be back for Fast & Furious 7 (Vin Diesel so far is the only actor making promises about what to expect). But Statham brings so much of his own star power that the onscreen clash between him, Diesel and The Rock ought to be unmissable.
Staff Writer at CinemaBlend
Your Daily Blend of Entertainment News
Thank you for signing up to CinemaBlend. You will receive a verification email shortly.
There was a problem. Please refresh the page and try again.