Jason Statham Would Love To Put A Fresh Spin On James Bond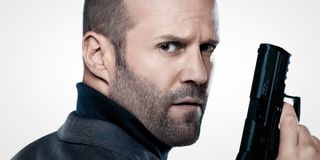 As we learned while visiting the set of Spectre, Daniel Craig has a movie-by-movie contract with the James Bond franchise. Theoretically, this means he could play the character for as long as the producers will have him, but eventually he will have to hang up his gadgets, park his Aston Martin and let a new actor take his place. Jason Statham was recently asked if he would be interested in the role, to which he said, in true Statham style, "abo-fucking-lutely."
Statham is one of the few people in this world who has no interest in landing a role in the Star Wars franchise, but he would abso-fucking-lutely lead the next round of 007. In an interview with The Guardian, the actor said,
Statham has been starring in an onslaught of over-the-top and borderline ridiculous action movies, including the latest Fast & Furious film. However, the biggest surprise of late comes with this weekend's Spy, in which he stars opposite Melissa McCarthy in Paul Feig's secret agent comedy. The early word from critics posits that Statham steals the show away from comedy and Feig vet McCarthy. Now that we know he has more of a well-rounded background, Bond doesn't seem as farfetched as it normally would. Though, this is all just fun banter, as there has been no news regarding a post-Craig Bond.
?One thing is for sure, though, Statham has no interest in playing a Bond villain. Javier Bardem played the theatrical Raoul Silva in Skyfall and Christoph Waltz will be playing the mysterious Oberhauser in Spectre, but despite the immense talent that populates these roles, Statham told The Guardian "that's not my thing."
The latest Bond movie features Daniel Craig returning as James Bond, who receives a cryptic message from his past that sends him on a mission. Given the name, and as teased in the trailer, the film will see the villainous organization Spectre return to the franchise fold, though the question on everyone's mind is, will we see Blofeld, the infamous villain spearheading this organization? We asked producer Barbara Broccoli on the set how far ahead they are thinking of the next Bond film, and she said talk hasn't begun yet on Bond 25. That hasn't stopped the fans from casting their votes for the next 007. Sorry, Statham, but Idris Elba is the favorite to continue the legacy, even though the Luther star and the Bond producers have said no one has entered talks with the other.
Spectre will hit theaters on November 6, and it will presumably be some time still before we hear of anything regarding the next installment.
Your Daily Blend of Entertainment News