Why Jason Statham Bailed On The Transporter Franchise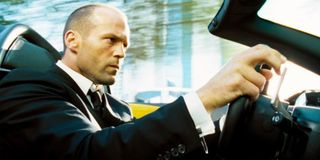 Jason Statham carried the Transporter franchise for three films and a video short titled Special Delivery: Transporters in the Real World. Now, however, EuropaCorp is continuing on with a reboot of the films without their leading man. As it turns out, both Statham and the studio wanted to further expand these stories, but there were a few details that just didn't sit well with the action star.
Vulture broached the subject with Statham during an interview, at which time the actor revealed why he passed on returning to the franchise.
He continued by emphasizing the need to read a script before signing onto a movie, which is something that plagues many actors, especially those involved in shared cinematic spaces. It's surely a risk, and one that Chris Evans, Robert Downey Jr., and the other Avengers actors had to question when they signed up for their Marvel movies. Those contracts come with a side order of multiple film appearances, which can sometimes take a bit of convincing. As we learned while on the set of the new James Bond movie, Spectre, Daniel Craig needed some pursuading when he signed up to be the new 007. Fortunately for him, producers Barbara Broccoli and Michael G. Wilson said that his contract is now open-ended.
The new installment, called The Transporter Refueled, emphasizing the reboot aspect, now stars newcomer Ed Skrein. You'll remember this guy from Game of Thrones, where he played Daenerys' sultry companion, Daario Naharis, before he was recast with Michael Huisman. Now you know why Skrein bailed. The same basic premise applies this time around: a transporter, the best in the business, agrees to transport packages. He's not supposed to change the deal, open the packages, or ever use names, but, of course, all of those things happen. The film looks as adrenaline-pumping as ever, but it's just not the same without Statham.
It's OK, though, because Statham now has a badass part to play in the Fast and Furious franchise.
Recently, Refueled was pushed backed from June 19, 2015 to September 4, having previously been moved from its February release. Statham really laid the ground work for this franchise, and he's the reason why so many people come out to theaters to see these films. With Skrein in the lead role, will the studio still be able to keep the franchise alive?
Your Daily Blend of Entertainment News