Jena Malone In Talks For Catching Fire's Johanna Mason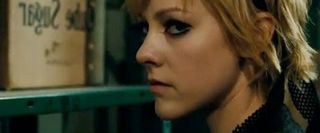 With all the hubbub that arose over every aspect of The Hunger Games casting, the rapid-fire speculation and ongoing reports of who is going to snag what role in the sequel Catching Fire are to be expected. And in the latest round of Hollywood's reaping-related updates, THR declares early reports that newcomer Zoe Aggeliki was the film's frontrunner for the fan favorite role Johanna Mason, are dead wrong. Instead—insists the trade—it's Sucker Punch star Jena Malone who is currently in early negotiations to play the fiery tribute from District 7.
The Hunger Games: Catching Fire will be an adaptation of Suzanne Collins second novel about Katniss Everdeen and the peasants of Panem's continued struggle against the cruel and calculating Capitol. Having infuriated the dastardly President Snow with her remarkable victory, Katniss in thrown back into the Hunger Games to fight for her life a second time. Johanna Mason is one of her competitors, and though a relatively minor figure in the books, she is rabidly beloved by fans because of her sassy nature and smirking humor.
Memorably, Johanna strips totally naked—save some green slippers—in front of a freaked-out Katniss in an elevator, just to get a reaction. While this particular scene may not make it into director Francis Lawrence's interpretation of the YA novel, it still gives a good insight to the kind of wild card energy fans will expect from whichever actress wins the role. To that end, Malone—who has been spunky and sharp in Saved! and Pride & Prejudice—seems a solid choice for the part. Of course, with this being only the beginning of talks, it's too soon to say she's a lock.
The Hunger Games: Catching Fire is expected to go into production late September.
Your Daily Blend of Entertainment News
Staff writer at CinemaBlend.