Jenna Fischer On The Offscreen Romance That Changed Her Life In The Giant Mechanical Man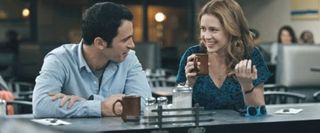 Jenna Fischer's TV counterpart Pam Halpert may have come into her own over the seven seasons of The Office, but she's still not a whole lot like the bubbly, energetic actress Fischer is in real life. At the same time, remember the episode when Pam talked her way into becoming Dunder-Mifflin's office manager, taking over all the tiny details of the office that no one else remembered to handle? Turns out that's exactly something FIscher would do-- and what she did when she signed on as the producer of her husband Lee Kirk's film The Giant Mechanical Man.
Sometimes when actors sign on as producers, it's a glorified title that basically means they helped get the money to make it. But Fischer, who also stars in the film as a shy woman who falls for a street performer (Chris Messina), was doing plenty of the grunt work-- filling out paperwork, setting up locations, making sure the bathrooms were clean, and much, much more. She was doing all that on top of tackling a really meaty role, playing her character Janice as a woman whose frustrations and disappointment come across not in big dramatic scenes, but in terrible, deflated silences. The romance she starts with Chris Messina's Tim is a potential way out-- but these are two broken people who have to get out of their won way first.
I talked to Fischer a few weeks ago at the Tribeca Film Festival about her double duty as producer and star of Giant Mechanical Man, how all that work also led to her romance and eventual marriage to director Lee Kirk, and a little about the uncertain fate of The Office, which she says feels a lot less uncertain on her end. The Giant Mechanical Man is currently available on VOD platforms like iTunes and Amazon.
Staff Writer at CinemaBlend
Your Daily Blend of Entertainment News
Thank you for signing up to CinemaBlend. You will receive a verification email shortly.
There was a problem. Please refresh the page and try again.