Jennifer Aniston's Mean Moms Just Took A Big Step Forward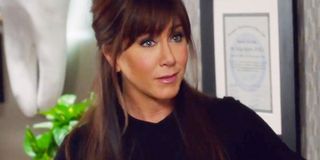 Mean Girls fans have some reason to celebrate today. Mean Moms, the adaptation of the book that was written as a follow-up to the self-help tome that inspired the 2004 Lindsay Lohan film, has taken a big step forward, as new reports are saying that the Jennifer Aniston-led comedy has found a new director.
According to Deadline, the upcoming comedy Mean Moms just scored Sean Anders to direct. The filmmaker just recently had the chance to work with Anniston on Horrible Bosses 2, but he also previously helmed the 2012 Adam Sandler comedy That's My Boy, as well as the college flick Sex Drive.
While Aniston has been linked to Mean Moms for a while now, the new trade report says that she has not yet signed a deal, and is reportedly keeping other options open this summer. It's entirely possible that signing Anders to direct the project – having just worked with Aniston – was a move by the studio to try and get her to sign on the dotted line.
The female driven comedy is being looked at as a spiritual follow-up to Mean Girls, which featured Lindsey Lohan as the protagonist and Rachel McAdams as the antagonist. No further details have been provided about the type of role Aniston will play, or if it will be doing something more in line with Lohan's or McAdams' characters from the original film.
Mean Moms, looks to capture the same spirit as Mean Girls, only with an adult cast. The story will center on a happily married mother of two who relocates her family from a small town to the high-class suburbs. There she must confront the cutthroat world of competitive parenting. What does this mean? The film will likely involve lots of carpooling gone hysterically wrong, passive aggressive fights, and some serious backbiting - and that's just from the parents.
Like Mean Girls, Mean Moms will also be based on the advice books by author Rosalind Wiseman. He self-help book Queen Bees and Wannabes was the basis for Mean Girls, and Queen Bee Moms and King Pin Dads: Dealing with the Parents, Teachers, Coaches, and Counselors Who Can Make—or Break—Your Child's Future will be the source material from which Mean Moms will be adapted. If the book title is any indication about just what the sequel to Mean Girls has in store for fans who have been waiting over ten years for a follow-up, then this should be a good one.
In addition to directing Mean Moms, Sean Anders also co-wrote the most recent draft of the script alongside his writing partner John Morris. In addition to the aforementioned Horrible Bosses 2 and Sex Drive, the duo's previous screenplay work includes We're the Millers, Dumb and Dumber To, and Hot Tub Time Machine. There's no word yet on any other actors being considered for the film, but stay tuned to Cinema Blend for more developments.
Your Daily Blend of Entertainment News
Your Daily Blend of Entertainment News
Thank you for signing up to CinemaBlend. You will receive a verification email shortly.
There was a problem. Please refresh the page and try again.