Judy Greer Up To Join Jason Reitman's Men, Women & Children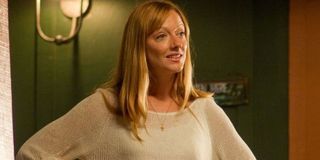 Whether she's breaking our hearts in The Descendants or cracking us up on Arrested Development or Archer, we can't get enough of Judy Greer. And it seems we're not alone. The Wrap reports four-time Academy Award-nominated writer-director Jason Reitman wants Greer for his next dark comedy Men, Women & Children, which is based on the novel by Chad Kultgen. But some scheduling issues have emerged because Greer is so in-demand.
See, Greer is already set to star opposite Nat Faxon in a pilot that The Last Exorcism co-writer Andrew Gurland pitched to FX. That project, which has the pair playing a married couple dabbling in an open marriage arrangement, has Greer's first refusal, meaning she's committed to it over any other project. If the TV network picks up the pilot--which sources say is likely--it will be a challenge to fit Men, Women & Children into her schedule. But as Reitman and Greer are eager to collaborate on Men, Women & Children, negotiations are currently being made to see if a shooting schedule can be made that will appease the pilot's team as well as Reitman's. If an arrangement can be worked out, Greer will be joining a cast that already includes Adam Sandler, Jennifer Garner, Rosemarie DeWitt, and Cameron Diaz.
According to the heralded novel's back cover Men, Women & Children "explores the sexual pressures at work on a handful of troubled, conflicted junior-high students and their equally dysfunctional parents. From porn-surfing fathers to World of Warcraft-obsessed sons, from competitive cheerleaders to their dissatisfied, misguided mothers, Kultgen clicks open the emotionally treacherous culture in which we live—in his most ambitious and surprising book yet." Should Greer sign on, she'd be playing the role of Joan Clint, a mother who inexplicably decides to post "alluring" photos of her young daughter online.
Reitman, an outspoken fan of the novel, gave the following book cover blurb:
With Juno, Up in the Air and Young Adult, Reitman has shown a deft awareness of zeitgeists, and captured their quirks beautifully. So, Men, Women & Children seems like a great fit for his skillset. While we wait for word on when this film will roll into production, you can see Greer in theaters now in Kimberly Peirce's gritty reboot of Carrie. Then December will see the release of Reitman's latest film, the Kate Winslet/Josh Brolin drama Labor Day.
Staff writer at CinemaBlend.
Your Daily Blend of Entertainment News
Thank you for signing up to CinemaBlend. You will receive a verification email shortly.
There was a problem. Please refresh the page and try again.