Jennifer Hudson Joins The Nuns In The Three Stooges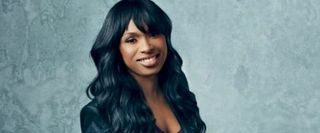 Jennifer Hudson is probably enjoying more pop culture relevance now than she has in a while, the newly svelte spokeswoman for Weight Watchers with a killer Oscar dress to go with it. Her film career, though, has been a lot more random, following up her Oscar-winning role in Dreamgirls with the Sex and the City movie and two indies, The Secret Life of Bees and Fragments. She's still got one more indie coming that could potentially get her back on a lot of radars-- Winnie, the biopic about Nelson Mandela's controversial wife-- but she's also taken a new role in a movie that's guaranteed to be seen.
According to Deadline Hudson will play one of the three nuns running an orphanage in The Three Stooges, the Peter and Bobby Farrelly-directed comedy that updates the classic comedy trio. Hudson will join Jane Lynch and, uh, Larry David as the nuns who take in the young Stooges, who will be played as adults by Sean Hayes (Larry), Will Sasso (Curly), and Chris Diamantopoulos (Moe). Deadline speculates that Hudson will be playing the nicer nun, which makes sense to me if only because Lynch and David are both too damn good at being mean to put that talent to waste. The Three Stooges is now shooting in Atlanta, which means it's likely we'll get a look at the new comedy from the Hall Pass directors at some point next year.
Your Daily Blend of Entertainment News
Staff Writer at CinemaBlend