Jennifer Lawrence's Joy Has Triggered A Behind-The-Scenes Fight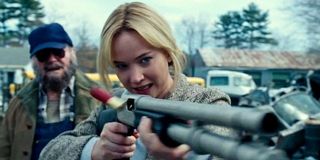 As it turns out, working on Joy was not always joyful. Just ask Annie Mumolo. The Bridesmaids screenwriter was hired by Fox 2000 back in 2012 to write the script for the film about Miracle Mop creator Joy Mangano. But you may recall, though, that David O. Russell also worked on the script, and it was this overlap that caused a dispute that could potentially leak into awards season.
The Hollywood Reporter has the full story on the matter, and according to the report, Mumolo spent a year writing the script for Joy, becoming close with the real life subject. When she turned it into the studio, however, executives thought it needed more character development. Shortly afterwards, Russell was offered the job of directing the project, and brought on his Silver Linings Playbook and American Hustle darling Jennifer Lawrence to star.
Part of the gig's details allowed him to rework the script, which he did quite a bit. THR states that he dropped a few of the biographical elements in favor of fictionalized plot points, including making Joy an amalgamation of multiple female entrepreneurs. Fox 2000 loved his treatment of the script so much that they decided to award him story credit, but Mumolo — who, again, was heavily invested in the script — fought back.
After an arbitration with the Writers Guild of America, Mumolo was given a shared story credit and her named will be listed first. Meanwhile, Russell was given sole screenplay credit. While the film has yet to screen for critics, Joy is already earning some early Oscar buzz, and this is where things get a little complicated. As we've seen before with Roger Avary (he had a story credit on the Tarantino film Pulp Fiction), Michel Gondry and Pierre Bismuth (they shared story credits with Charlie Kaufman on Eternal Sunshine of the Spotless Mind), and Hugo Guinness (story credit on The Grand Budapest Hotel), Mumolo would share an Oscar victory for Best Original Screenplay should the film win.
Steve McQueen was embroiled in a similar dispute with his writing partner John Ridley. McQueen hired Ridley to work on a project on a non-12 Years A Slave slavery film, but later asked him to work on the Oscar-winning film. According to reports, McQueen shaped the screenplay Ridley turned in, but he denied McQueen's request to share credit. Hopefully Joy won't yield similar results.
Jennifer Lawrence is joined in Joy by her previous David O. Russell compatriots Bradley Cooper and Robert De Niro, as well as Edgar Ramirez, Isabella Rossellini, Diane Ladd, and Virginia Madsen. The film takes place across four generations while centering on Joy, who experiences "betrayal, treachery," and "the loss of innocence."
Joy will be released in theaters on Christmas.
Your Daily Blend of Entertainment News