Did Jennifer Lawrence And David O Russell Get Into A Huge On-Set Fight?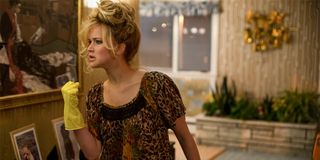 This story may have to be taken with a grain of salt, but reports have started to swirl that Jennifer Lawrence and David O Russell got into a huge argument while on the set of their latest film, Joy.
TMZ have reported that Russell, who directed Jennifer Lawrence to her Best Actress Oscar back at the 85th Academy Awards for her performance in Silver Linings Playbook, and the actress got into quite a verbal sparring. The eyewitnesses who informed TMZ of the dispute explained that David O. Russell started screaming at Jennifer Lawrence while the pair were on set, and that it was all over a scene that they were shooting. They even described it as "ear-piercing" and added that it included numerous "profanities."
A representative for Fox 2000 did confirm that there was screaming between the pair; however they insisted that it was part and parcel of the filmmaking experience. In fact, David O. Russell was actually trying to incite and provoke a response from Jennifer Lawrence, as she herself had to scream and shout at someone in the scene.
Which makes perfect sense. Not only is there plenty of evidence from throughout David O. Russell's history as a filmmaker that proves just how much of a hands on role he takes when he is on-set (the Lily Tomlin on-set fight is legendary), but, having worked with Jennifer Lawrence on Silver Linings Playbook and American Hustle (which also earned her a Best Supporting Actress nomination), he clearly knows how to eke out her best performances on set.
But there is yet another twist to this tale, and it involves the appearance of larger-than-life producer, Harvey Weinstein. The former Miramax co-founder allegedly turned up on set on Wednesday so that he could say hello to Jennifer Lawrence and exchange niceties with the cast and crew. Unfortunately, it's been alleged (by TMZ) that his pop-in couldn't have been more poorly timed. And because production was moving at such a fast speed, David O. Russell insisted that Weinstein wouldn't be allowed on set. Meanwhile, other allegations about the director getting into a "heated" argument about a line producer he wants to fire have also been teased.
At the moment all of this is just pure rumor, reports from a movie set that's deep into production. However, because of David O. Russell's documented, volatile past during production, which has seen him have run-ins with the likes of George Clooney on the set of Three Kings and Lily Tomlin while filming I Heart Huckabees, there is a slight chance that it could be true.
However, it can probably all just be struck up to being a cinematic incident, and by the end of production everyone involved will almost certainly have either moved on, forgiven or completely forgotten what these alleged incidents were all about.
Joy, which tells the emotional and comedic journey of the woman who invented the Miracle Mop, will star Jennifer Lawrence, Bradley Cooper and Robert De Niro. It has been co-written by Russell and Bridesmaids' Annie Mumolo, and is due out on Christmas Day.
Your Daily Blend of Entertainment News