Jennifer Lawrence Unites The Resistance In First Hunger Games: Mockingjay Part 2 Photo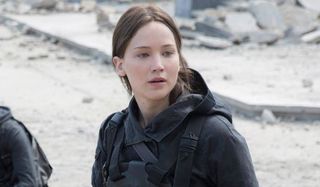 The final battle against the Capitol has begun. Jennifer Lawrence, who plays Katniss Everdeen in The Hunger Games franchise, released the first movie still from Mockingjay - Part 2, and you can check it out below:
The posters and promotional material released so far showcase imagery for The Hunger Games: Mockinjay - Part 2, but this photo is our first real look at the final installment of the franchise. Aside J-Law's Katniss, we see Liam Hemsworth's Gale, Evan Ross' Messalla, and way in the back is Sam Claflin's Finnick Odair. All are equipped with weapons, with Katniss sporting her signature bow and arsenal of exploding arrows. Lawrence released a special caption for the fans on Facebook to go with the message, saying "6.9.15 #MockingjayPart2 #Unite." It's safe to assume that something pretty major is coming on this date, which is this coming Tuesday. Our guess? The first trailer!
In the meantime, we already know where this is heading, especially if you read the books or have followed the trajectory of the films. Part 1 of Mockingjay saw Katniss and her entourage surveying the ruins of Districts that have been blown to pieces by the Capitol - but Part 2 will see these characters infiltrate the Capitol for a final standoff against the tyrannical President Snow (Donald Sutherland). The films have deviated a lot from the books, as apparent by the expanded role for Elizabeth Banks' Effie Trinket, and how the audiences experienced the invasion of the Capitol when the rebels extracted Johanna Mason (Jena Malone), Annie Cresta (Stef Dawson) and Peeta Mellark (Josh Hutcherson).
Still, there are a few things we can expect. Joining the cast of characters are Commander Lyme (Game of Thrones and Star Wars: Episode 7's Gwendoline Christie) and Lt. Jackson (True Blood's Michelle Forbes). Without spoiling any major plot points, the rebels, led by their beacon of hope, travel to the Capitol in the hopes of finally capturing Snow. Armed with booby traps, advanced technology, guards and creatures, the city becomes another arena for Katniss.
Aside from what we can glean from the books, director Francis Lawrence said that Part 2 is very different thematically from the one before. While Part 1 focused on propaganda, and how it affects the people of a nation, this installment will be more like a battle movie. He also promises that we'll see the characters emerging from District 13 very early on and out into the rest of Panem. Since this is also the final film of the entire series, not everyone might walk out of it alive. It's a sad truth, but one we should all be preparing for.
The Hunger Games: Mockingjay - Part 2 will hit theaters this November 20th.
Your Daily Blend of Entertainment News