Jeremy Renner To Replace Colin Farrell In By Virtue Fall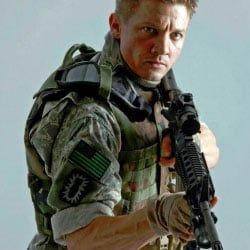 Jeremy Renner has officially reached It Boy overload status. The Oscar-nominated actor, who recently signed onto Mission: Impossible 4 and is rumored for Hansel and Gretel: Witch Hunters, is now in negotiations to replace Colin Farrell in By Virtue Fall, according to Deadline.
By Virtue Fall tells the story of two close friends and business associates whose relationship is destroyed when one double-crosses the other, sending him to prison for a crime he didn't commit. Seething behind bars, the innocent man plans his revenge on the friend who betrayed him. Both characters go through opposing transformations during the film: one becomes a stone-cold rageaholic while in prison, while the other cleans up his act and leads a successful life he might not deserve. If Renner does Virtue, he'd be locking horns with Aussie actor Eric Bana.
Aside from M:I 4 and the Hansel and Gretel re-imagining, Renner is also attached to Paul Thomas Anderson's upcoming The Master, which stars Philip Seymour Hoffman. Of the two available leads, I hope Renner's up for the role of the wronged inmate, as that seems to be the juicier part and will give viewers another glimpse of that reckless abandon on display in The Hurt Locker. Besides, it would be nice to see Renner's path to stardom take an unorthodox path rather than the archetypal leading man. After all, we fell in love with him in the first place for a bomb squad leader that went against the grain and did the shit nobody saw coming.
Your Daily Blend of Entertainment News
Thank you for signing up to CinemaBlend. You will receive a verification email shortly.
There was a problem. Please refresh the page and try again.