Jesse Eisenberg And Dakota Fanning Turn Terrorists In Night Moves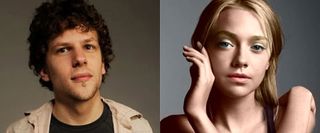 Director Kelly Reichardt has made three of the best indies in recent years-- Old Joy, Wendy & Lucy and Meek's Cutoff-- but there are still plenty of people who've never seen her work. That may start to change as she not only works with bigger and more famous casts, but starts tackling the kind of hot-button issues that start getting peoples's attention. So don't be surprised if you hear a lot of chatter around Reichardt's name next year, as she prepares to go to work on a thriller about eco-terrorists who plan to blow up a dam-- and especially now that she's cast two fairly famous young actors to do all that plotting.
According to Variety, The Social Network star Jesse Eisenberg and now-grown child actress Dakota Fanning are in talks to star in Reichardt's upcoming Night Moves, which also has Peter Sarsgaard on board. Reichardt also wrote the script about the three terrorists, with Eisenberg potentially playing the ringleader, Fanning playing a wealthy girl who funds the project, and Sarsgaard as the mastermind behind making the bomb. Though she's working with bigger names on screen, Reichardt's collaborators behind the scenes are remaining largely the same, including Far From Heaven filmmaker Todd Haynes as executive producer.
If you're not familiar with Reichardt's work, both Meek's Cutoff and Old Joy are available to watch on Netflix Instant (opens in new tab). They're not like most movies you'll see, but they're very, very worth your time-- and probably preparation for Night Moves, which could upend the traditions of a thriller the same way Meek's Cutoff completely turned around the Western genre. Reichardt's really, really good at telling stories in unusual and deeply affecting ways, and I can't wait to see how she brings that to her next film.
Staff Writer at CinemaBlend
Your Daily Blend of Entertainment News
Thank you for signing up to CinemaBlend. You will receive a verification email shortly.
There was a problem. Please refresh the page and try again.