Jesse Eisenberg May Join Aziz Ansari In 30 Minutes Or Less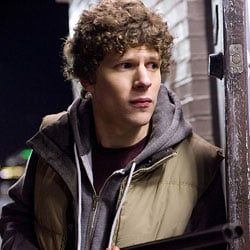 After nabbing Aziz Ansari to star in his upcoming buddy comedy 30 Minutes or Less, director Ruben Fleischer is moving on to the second half of the duo. Fleischer is thinking smart and making a move for his Zombieland star, Jesse Eisenberg. As reported by The Playlist, the current issue of Production Weekly reveals that Eisenberg is in talks to play Will, the buddy of Ansari's character, Chet.
30 Minutes or Less focuses on the two pals who have a falling out when Will admits he's got a major thing for Chet's sister. Meanwhile, two bumbling crooks (Danny McBride and Nick Swardson) are trying to hatch a plan to make some quick dough. They opt to rob a bank and wind up strapping a bomb to Will and forcing him to do the deed for them.
The initial news of Fleischer uniting with McBride for a caper film was intriguing, but when word got out that Ansari was finally getting his chance to shine in a feature length film, 30 Minutes or Less became a project to watch. Now, with Eisenberg almost on board, this is starting to seem like a guaranteed success. Who better to compliment Ansari's antics than Eisenberg? Both have a knack for being hilarious without even trying, but in wholly different ways. Better yet, The Playlist has read the script and describes it as "Pineapple Express but with more heart to it."
Filming is set to begin in July, with 30 Minutes or Less heading to a August 20th, 2011 release.
Your Daily Blend of Entertainment News
Staff Writer for CinemaBlend.