Joaquin Phoenix To Replace Robert Downey Jr. In Paul Thomas Anderson's Inherent Vice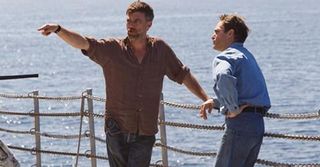 Currently Oscar-nominated for his work in The Master-- whether he actually wanted to be or not-- Joaquin Phoenix has plenty of reason to want to reunite with Paul Thomas Anderson, and now he's doing just that. Phoenix will reportedly step into the lead role in Inherent Vice, which Anderson had previously been developing with Robert Downey Jr. in the lead.
The film, an adaptation of Thomas Pynchon's novel, will star Phoenix as a detective solving a case brought to him by his ex-girlfriend in 1969 Los Angeles. According to Variety there's no start date in mind yet, and it's unclear why Downey dropped out, though it's probably easy enough to blame his ongoing, seemingly never-ending commitment to playing Iron Man. Anderson has previously saidjust a few weeks ago rumor had it that Charlize Theron was ready to jump on board. Whenever the start date is, it's probably not long from now.
It was exciting for a while to think that Robert Downey Jr. might take on a role this challenging and potentially rewarding, but sadly, it's not that surprising to hear that he's bailed. Downey has found himself on one of the industry's biggest and most unlikely money trains even since Iron Man came out, and his single attempt at breaking out of blockbusters-- Joe Wright's The Soloist-- flopped terribly. He knows where his bread is buttered, and for now he seems to have no interest in changing that. A loss for us, maybe, but Joaquin Phoenix's gain.
Your Daily Blend of Entertainment News
Staff Writer at CinemaBlend